Good, affordable fun. It's no secret that cars are more expensive than ever, and that sentiment remains especially true for sports cars. But the 2020 Subaru BRZ carries on as one of the more affordable options on the market. While changes have seen pricing go up for 2020, the BRZ still represents good value for consumers searching for a sporty ride.
For 2020, the Premium trim has been discontinued, while the tS trim returns. The entry-level Limited trim comes well equipped for its starting price tag of $29,745. Consumers will find a 7-inch touchscreen, smartphone compatibility, leather and Alcantara upholstery, and navigation.
The tS, which returns after a year off, comes with track-focused components that make it even sharper. At $32,395, it's certainly not cheap, but with only 300 units of the trim bound for the U.S., it's not a ludicrous way to get into a limited-edition sports car.
Old-school take on performance. Taking inspiration from sports cars from decades ago, the BRZ puts handling and cornering first. For the money, it's one of the most enjoyable car drivers that can pilot around a windy road or a racetrack.
In a world where sports cars are being tuned to pump out more and more horsepower, the BRZ is a back-to-basics vehicle that puts feel, handling, and enjoyability at the forefront. The BRZ is still very much an analog car in a digital world.
While the BRZ is sure to thrill around corners, the engine begs for more power. The 2.0-liter four-cylinder engine only produces 205 horsepower. That figure isn't that bad, but the motor's 156 pound-feet of torque means you're left wanting more oomph.
A proper six-speed manual transmission and rear differential, though, help keep things lively. The BRZ continues to be the only rear-wheel-drive vehicle that Subaru has ever sold.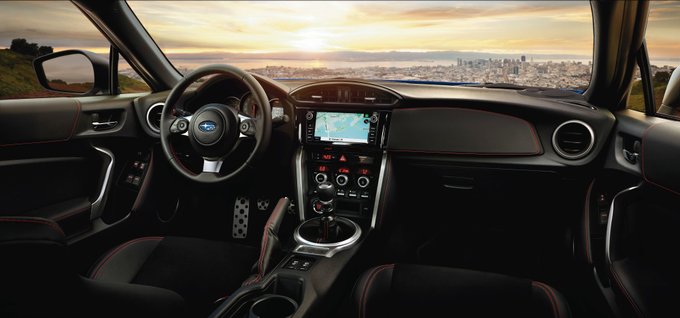 Purposefully styled. The BRZ checks all of the right boxes when it comes to its styling. Thanks to its flat-four engine that's placed low in the hood, it has a quintessential sports car stance.
Wide, low, and relatively short in length, the BRZ is clearly a sports car, through and through. The vehicle's looks have hardly changed over the years, so if you liked the BRZ when it came out in 2013, you'll probably like it in 2020.
Compared to the competition, the BRZ has a bare and refreshingly simple cabin. Large dials, simple buttons, and an uncluttered dashboard give drivers the ability to enjoy driving and not be bogged down with unnecessary distractions. It's not that the BRZ lacks creature comforts, though. It comes standard with dual-zone climate control, heated front seats, and eight audio speakers.
The clear gauges in the instrument cluster provide drivers with the necessary amount of information – nothing more. An oversized, central tachometer puts the most vital piece of info, engine revs, immediately in front of the driver. With digital screens dominating instrument clusters, the analog gauges are a welcomed sight.
Not exactly a family car. Attempt to use the BRZ in a fashion that mimics a family vehicle, and it unsurprisingly fails horribly. It's not meant to carry large loads of cargo or cocoon passengers in luxury. The BRZ, after all, is a sports car.
Passengers in the front will find a surprising amount of headroom, but the seats are mounted low in the car, making egress and ingress something resembling a yoga move. While the BRZ has four seats, the back ones aren't there for humans. Instead, think of them as extra storage. Groceries, small dogs, a backpack – these are the kinds of items that fit in the back.
Measuring in at 6.9 cubic feet of cargo space, the trunk is average for the class. The rear seats do fold down to create some extra space, but it's still something you'll have to plan trips to the grocery store to work around.
Final thoughts. Consumers were once spoiled for choice if they were looking for an affordable, driver-friendly sports car. But times have changed. They now have massive amounts of power, are similarly priced to college tuitions, and come with tech that takes drivers out of the equation. This isn't the case for the 2020 Subaru BRZ, which remains a pure sports car for drivers.
We only have one complaint with the BRZ, and it's the same one we've had with the vehicle since it came out. Put simply, it needs more power. Enthusiasts and journalists alike have been begging for a turbocharged version of the BRZ, but Subaru hasn't answered the call. The decision to discontinue last year's Premium trim was also confusing, as well, as we really enjoyed getting into a version that was priced at under $26,000.
There are a number of competitors on the market. The Mazda MX-5 Miata is the BRZ's main competitor. The Miata is even more enjoyable to drive and prettier to look at. It's not as powerful and it's not available in a coupe body style. The Nissan 370Z is slightly more expensive and older than the BRZ, but it's a more powerful machine. It comes with a 332-hp V6, doesn't have any rear seats, and feels even older than the Subaru.