Redesign Info
For 2019, the Subaru Forester went through a full redesign that included an all-new look, new engines, and an array of new standard safety features. With the ink still drying on the press release for the redesign, we expect the 2020 Subaru Forester to remain unchanged.
Visually, the 2020 Subaru Forester will carry on with the same new looks it picked up in 2019. This includes prominent wheel arches, enhanced shoulder lines, standard LED headlights, a revised grille, a new Sport trim that adds black accents, 18-inch wheels, and more.
Inside, not a ton changed visually for the redesigned Forester, save for its new steering wheel and a few new knobs, but this is typical for Subaru. What changed was its 1.4-inch increase in rear leg room, 0.3-inch increase in front leg room, 0.6-inch increase in rear shoulder room, 1.2-inch increase in front shoulder room, and other gains. Cargo room also jumped by 1.9 cubic feet to up to 76.1 cubes with the rear seats folded. We expect this all to remain untouched in the 2020 Forester.
With no visual changes in the cards, we also expect the 2020 Subaru Forester to continue with the same standard features. If this proves true, a 6.5-inch touchscreen, Apple CarPlay, Android Auto, adaptive cruise control, automatic climate control, an electronic parking brake, and much more will be standard.
The Subaru Forester moved to a simpler offering of engines with its redesign, and we expect this to remain the same in the 2020 Forester. This means we will see the same standard 2.5-liter four-cylinder engine with 182 horsepower and 176 pound-feet of torque under the hood of all 2020 Subaru Forester models. Pairing to this engine will be a standard continuously variable transmission and all-wheel drive. While this is no powerhouse, is will remain fuel efficient at 26 miles per gallon city, 33 highway, and 29 combined.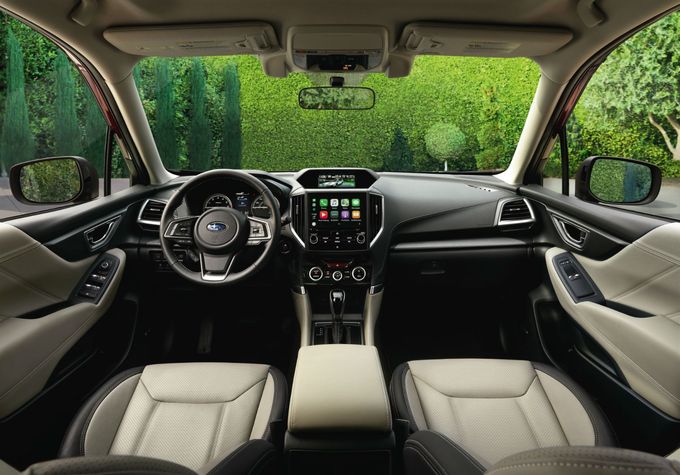 Safety took a huge step forward in the redesigned Forester, and we expect the same in the 2020 Subaru Forester, including standard EyeSight across the entire lineup. The EyeSight system uses dual color cameras near the rearview mirror to keep an eye on the road ahead and alert the driver of potential accidents and hazards. EyeSight also helps the driver avoid accidents with automatic emergency braking and lane-keep assist. Other safety goodies included in EyeSight are adaptive cruise control, lane-departure warning, pre-collision throttle management, and lead vehicle start alert.