New, but not different. You'd be forgiven for thinking that the 2020 Subaru Legacy hasn't changed at all. But in fact, 2020 brought a full redesign to Subaru's mid-size sedan. The exterior may look nearly the same as the outgoing generation, but it's a whole new car underneath.
Subaru doubtless subscribes to the "if it ain't broke, don't fix it" philosophy. The Legacy still offers good interior space, with nearly 40 inches of rear leg room. It may not be quite as off-road ready as its Subaru Outback sibling, but it checks in thousands cheaper. With 15.1 cubic feet of trunk space and a well-equipped interior, it deserves more looks in the showroom than it's likely to get.
Except what's under the hood. The Legacy does get two new engines, both of the four-cylinder variety. The first is a 2.5-liter unit producing 182 horsepower and mated to a continuously variable transmission. Designed for increased efficiency, the base engine is good for an EPA-estimated 30 miles per gallon combined.
The second engine is a turbocharged 2.4-liter powerplant making a healthier 260 hp. It adds a good deal more passing power but dents fuel economy to 27 mpg combined.
Both numbers are respectable given Subaru's standard all-wheel-drive system. The turbo is the better performer, but it's only available on the top two trims, which makes it a spendy choice.
Neither option will turn the Legacy into a sport sedan. The car is well behaved in the corners, but its aim is comfort rather than performance.
Techology front and center. Another highlight of the redesign is a fresh infotainment system. Base trims get two smaller touchscreens, but the Subaru Legacy uses a dramatic central 11.6-inch tablet everywhere else.
That's all but unprecedented in a sedan at this price point, and the software mostly lives up to the billing. Apple CarPlay and Android Auto compatibility are included, and the system gets plenty of USB ports and optional navigation.
Media isn't the only place Subaru is dumping their tech. Every Legacy comes with active safety tech like adaptive cruise control, automatic emergency braking, and lane keeping assist. Again, that's impressive in this price bracket, and it should win the Legacy some fans among family buyers.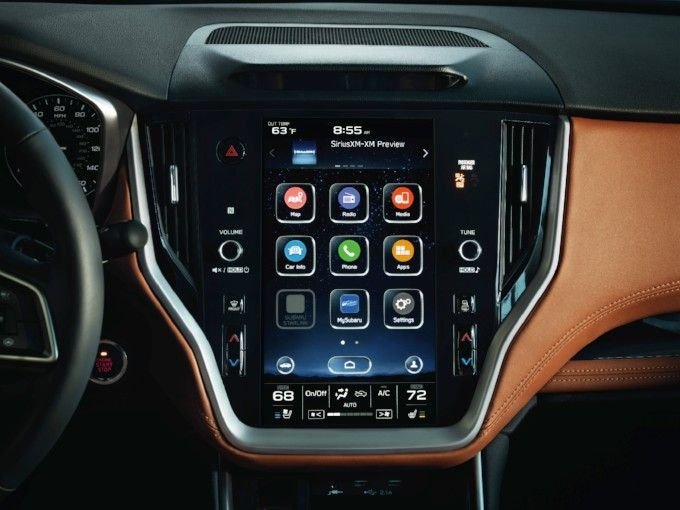 Value everywhere. Thanks in part to the infotainment and safety tech, the Legacy represents excellent value. Even in base trim, it gets features like LED headlights and automatic climate control.
Step up to the Premium trim, and you get a nearly-luxury sedan for just past $25,000. Heated front seats, dual-zone climate control, and a leather-wrapped wheel headline the interior, with a moonroof available in the options list.
The Legacy's biggest black mark may be its body shape – in a market that's demonstrated its preference for crossovers, the Legacy may always be overshadowed by the Outback and Forester. But for value-oriented buyers, we suggest that the humble sedan shape may still have something to offer.
Final thoughts. This generation of Legacy may rightly be classified as more evolution than reinvention, but we'll celebrate it nonetheless. The 2020 Subaru Legacy is more comfortable, more capable, and more likable than ever.
Whether that'll sway buyers remains to be seen, but we applaud Subaru for what they've accomplished. They've spent their development dollars where it counts, and the Legacy is worth a look for most sedan shoppers, especially those who need all-wheel drive.