If it ain't broke. The 2020 Subaru Outback is all new, but casual observers wouldn't know by looking at it. The new Outback sticks to the same tall-wagon styling that has defined an entire market niche, with tough-looking plastic cladding that's designed to evoke the aesthetics of a hiking boot. Overall, it's handsome, but nobody will be turning their heads, mouths agape.
That said, the style of the Outback accomplishes exactly what it set out to do. Outside of the Subaru WRX and Subaru BRZ, the automaker has never really been a purveyor of flashy designs, and their continued sales success means they must be doing something right.
Go anywhere. Ever since the Subaru Outback debuted in 1995, it has enjoyed a well-earned reputation for its off-road prowess. Even though Subaru is no longer using Crocodile Dundee as their spokesperson, the new Outback remains fully capable of taking excursions beyond the purview of your average station wagon.
To that end, the Outback is equipped with standard full-time all-wheel drive, 8.7-inches of ground clearance, and an excellent suspension and chassis that inspires confidence in places without pavement.
The Onyx Edition trim level takes it even further, with more advanced off-road driving controls and durable water-repellent upholstery that can stand up to adverse conditions better than cloth or leather.
Overall, the Outback can beat out most crossovers off-road, while giving just about any SUV outside of the Jeep Wrangler a run for their money.
Adequate engines. The Subaru Outback is offered with a couple of engine options, but only one is worth getting excited about.
The naturally-aspirated base engine offers what should be considered the bare minimum for a car of the Outback's stature. With only 182 horsepower, the 2.5-liter flat four-cylinder engine can feel downright anemic, especially at higher altitudes. For a vehicle that's marketed as the gateway to adventure, that's rather unfortunate.
Thankfully, there's an optional 260-hp turbocharged four-cylinder that can remedy any of these faults. The turbo's forced induction makes it suck in more oxygen at higher altitudes while making the Outback feel much more at home at highway speeds. The trade-off is a few miles per gallon, but it may be worth the upgrade.
No nonsense interior. Subaru has never been known for its ability to craft a beautiful interior, but they're getting better. Still, the Outback's interior remains largely utilitarian, with few embellishments or stylistic designs. That said, it's a comfortable vehicle with well-bolstered and supportive seats.
The biggest change to the Outback's interior for 2020 is the inclusion of a massive 11.6-inch infotainment touchscreen that dominates the center of the dashboard. The infotainment system comes standard with Apple CarPlay and Android Auto, but it can feel sluggish or neglectful too often.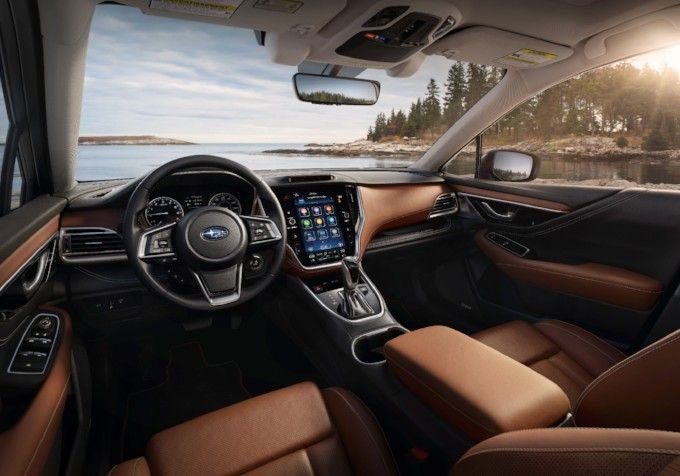 Standard active safety features. The Outback, like all Subaru models, comes standard with a suite of advanced safety features like automatic emergency braking, adaptive cruise control, and lane keeping assist. Additional features are available as a part of an option package on most models.
While the IIHS and NHTSA haven't crashed the new Outback yet, we've been told that it's been built with an advanced new frame with high-strength steel reinforcements specifically designed to do very well in the most recent federal crash testing standards.
Final thoughts. The 2020 Subaru Outback is a fantastic vehicle for those who dream of adventure. It's comfortable and spacious, while remaining rugged and highly capable. Few other vehicles can match its off-road prowess, and even fewer can claim such a high degree of everyday livability.
At the end of the day, the Outback continues to define the tall-wagon segment it created back in the mid-1990s, remaining unmatched in adventurous capability.
That said, the Buick Regal TourX is a similarly-priced competitor that follows the tall-wagon formula, albeit more focused on comfort and on-road manners. Additionally, European models like the Volvo V60 Cross Country and Audi Allroad exist in the strata above the Outback, but the upgrade may be worth considering over a fully-loaded Outback if you don't see yourself regularly going off-road.