What's New
It's difficult to understate the significance of the all-new 2020 Tesla Model Y. It's more utilitarian than the Tesla Model 3, simpler in concept than the Model X, and aimed directly at the sweet spot of the crossover market.
The electric compact crossover SUV becomes the fourth model in Tesla's lineup. It's smaller and much cheaper than the Model X crossover, but still offers an optional third row and the blistering performance Tesla has become known for.
Choosing Your Tesla Model Y
The Tesla Model Y is currently available in two trim levels: Long Range and Performance. The Long Range model starts at $54,190 including destination, while the Performance is priced from $62,190.
Tesla says that a Standard Range model that costs $40,200 is coming soon.
Engine Choices
While other manufacturers layout their electrified powertrain specifications, Tesla remains mum about specific battery performance and motor output. We do know, however, that the Model Y utilizes two electric motors and all-wheel drive.
According to the EPA, the Long Rang model gets 316 miles of all-electric range, while the Performance model gets 315 miles. Tesla says that it can recharge 158 miles in 15 minutes at one of their Supercharger locations.
What Tesla isn't shy about is showing off performance numbers, which are again sufficient to raise some eyebrows. The Long Range model can go from 0-60 mph in 4.8 seconds and has a top speed of 135 mph. The Performance flies from 0-60 in 3.5 seconds and can reach 145 mph.
Passenger and Cargo Capacity
The Model Y offers standard seating for five passengers across two rows. A third row that ups seating to seven people is available for $3,000. There's 41.8 inches of front leg room and an impressive 40.5 inches of rear leg room.
Tesla boasts of a total of 68 cubic feet of cargo space, with that figure including the front trunk compartment.
Safety Features
Every Model Y gets automatic emergency braking, adaptive cruise control, lane keeping assist, and blind-spot monitoring. Tesla also includes their semi-autonomous Autopilot system as standard.
Where the Tesla sets itself apart from others in the industry is through the optional Full Self-Driving Capability package ($7,000). This enables the Model Y to drive itself on the highway and park itself. It also includes a cool summon feature that lets owners call the car to them from up to 213 feet away via their smartphone. Of course, all this technology comes with the "Beta phase" label and a host of legality details.
The Model Y has yet to be crash-tested by NHTSA or IIHS.
Connectivity
The Tesla Model Y essentially defines what it means to be a connected car. Seemingly everything is controlled through the tablet-style 15-inch central touchscreen, from the HVAC system to the ability to play video games when the vehicle is stopped. There's standard navigation, wi-fi, Bluetooth, and a 15-speaker audio system, but no Apple CarPlay or Android Auto.
The cool thing about the infotainment system is that it periodically receives over-the-air updates, much like smartphones do, which add new functions as Tesla puts it out.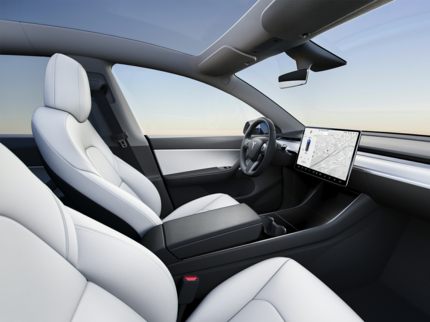 The Model Y Long Range is equipped with many common luxury car features, such as LED headlights, fog lights, and taillights; a panoramic glass roof; a power tailgate; and heated and power-folding mirrors. Inside, the Model Y includes heated front and rear seats, black leather upholstery, 12-way power front seats with driver position memory, a power-adjustable steering column, and keyless entry and start.
There's very little to customize with. Choices include five colors, 20-inch wheels ($2,000), a tow hitch ($1,000), the third row ($3,000), white leather ($1,000), and Full Self-Driving Capability ($7,000).
The Performance trim adds a lowered suspension, 21-inch wheels with wider and staggered tire sizes, higher-capacity brakes, and aluminum alloy pedals. The Performance also gets the higher top speed and faster 0-60 mph time.
Compare Model Y Trims Side-By-Side
CarsDirect Tip
The 2020 Tesla Model Y is a uniquely performing vehicle that's aimed at the heart of the hottest segment. Add the Full Self-Driving Capability package to the Long Range trim and experience the leading edge of technology.