Able and outdated. The 2020 Toyota 4Runner is a relic from the SUV boom of the early aughts. The formula for such a rig was simple then: truck underpinnings, two-box bodies, and compromised ride and handling.
Other automakers have since endeavored to civilize their SUVs, but Toyota has decided to not fix what ain't broke. So, the 4Runner persists, able and outdated but still satisfying the loyal few.
Antique powertrain, contemporary off-road tech. All 4Runners use a big 4.0-liter V6 making 270 horsepower. This engine has been around long enough to be dirt's father, a fact supported by the five-speed automatic transmission it mates up to. There's nothing about this setup that's remotely exotic or even modern, but it works.
That's not to say it works particularly well. In this age of eight-speed automatics, the three missing cogs are conspicuously absent, and the engine has a penchant for loudness without any equivalent thrust. Its fuel economy is also rather abysmal at 16 miles per gallon city, 19 mpg highway, and 17 combined, according to the EPA. It's pretty clear from even just a short drive that engineers haven't sweated over this powertrain for at least a decade.
The underside of the 4Runner isn't quite so antique, at least on the TRD and TRD Pro trims. The TRD uses hydraulically-actuated anti-sway bars that increase the available amount of wheel articulation off-road and reduce body lean during on-road cornering. It's a neat setup that quells some of the 4Runner's bad road manners while also improving trail performance.
The TRD Pro tosses those fancy sway bars in favor of special Fox shocks that we found to be a boon in both on- and off-road situations. TRD Pros also ride higher and wear factory skid plates to protect the vulnerable bits underneath. For something that's this focused on trail work, the TRD Pro rides surprisingly soft – something we can't say about the luxury-oriented Limited trim and its 22-inch wheels.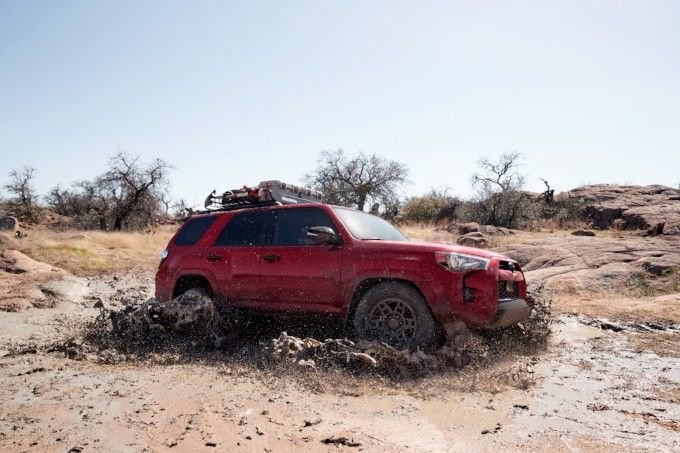 Outdated manners, comfortable. Don't equate a soft ride with a luxury ride, though. This is still an SUV that, from a technical standpoint, is essentially 17 years old.
The generally outdated design means it's a handful to pilot; at the very least, it's a more exhausting exercise than any modern crossover or SUV. The loose steering requires endless corrections, there are no cornering abilities to speak of, and the brake pedal is alarmingly soft. It's a throwback experience to days of old, when all this was de rigueur for the segment.
At least passengers will be comfortable while the driver is busy taming this unruly beast. The front seats are plush thrones that aren't aggressively bolstered or overly narrow.
Rear seats offer plenty of space in all directions, though three abreast is tight and the optional sunroof eats into headroom. A third row is optional but rather useless; we would much rather have the available slide-out cargo floor that makes easy work of loading up the ample 47 cubic feet of cargo space.
Yesterday's interior, today's prices. Comfortable as it might be, cross-shop the 4Runner with any other SUV or crossover and you realize how dated the thing is. Even the Jeep Wrangler Unlimited – the only other mainstream four-door SUV with serious off-road capability – feels more modern inside thanks to its recent redesign.
At least the 4Runner now comes with more technology. The 8-inch touchscreen finally has Apple CarPlay, Android Auto, and Amazon Alexa capability, and a new dashboard with a 4.2-inch driver information display is also standard. Two rear-seat USB ports give rear-seat riders the chance to plug in and charge up, just like a modern car.
The 4Runner's meager list of standard active-safety features further underscores its dated nature. Yes, there's now newly standard automatic emergency braking, adaptive cruise control, and lane departure warning, but there's still no blind-spot monitoring or rear cross-traffic alert. Also unavailable at any price are features like a head-up display, lane keeping assist, or a surround-view camera.
For what it's worth, the base 4Runner begins at $37,140 and stretches up to $50,885 for the range-topping TRD Pro trim. We find this a tough pill to swallow. There are many better crossovers and SUVs out there that might not be quite so potent off-road but will be far more enjoyable to live with on a day-to-day basis.
Final thoughts. The 2020 Toyota 4Runner has few safety features, can be a handful to drive, and is pricey. Does all this make it a bad vehicle? Well, not necessarily.
There's plenty of YouTube videos showing these things tackling all sorts of trail, and Toyota wouldn't be building it if there weren't folks willing to buy one. But there's no getting around the fact that with such an outdated machine – it was last all-new in 2003, if you can believe it – comes some unfortunate realities.
If it were our money, we'd shop elsewhere or maybe look used. With 17 years' worth of similar 4Runners to pick from, it won't be too hard to find the one that's right for you.