While other carmakers (like Ford) begin phasing out sedans in favor of more lucrative crossovers or trucks, Toyota continues to invest in their small cars. One result is the 2020 Toyota Corolla. Back with a complete update, the Corolla is on a mission to erase its vanilla reputation of the past.
What's New for 2020
For 2020, the Corolla received a ground-up redesign. It rides on a new platform, uses a new suspension, and routes power through a new transmission. The base engine is close to the old one, but it's been tuned for more horsepower and efficiency.
Choosing Your Toyota Corolla
Choosing a Corolla begins with the engine. Although it's also available as a hybrid and hatchback (both covered separately), the standard Corolla sedan comes with two motors.
The first is a 1.8-liter four-cylinder engine that powered the previous generation's L Eco trim. It produces 139 horsepower and 126 pound-feet of torque. Despite being the less powerful of the two, it gets the worse fuel economy: an EPA-estimated 30 miles per gallon city, 38 mpg highway, and 33 combined with the continuously variable transmission (CVT).
The other engine is another four-cylinder, this one displacing 2.0 liters and sending 169 hp and 159 lb-ft of torque to the front wheels. Fuel economy comes in at 31/40/34 mpg (city/highway/combined).
The base engine is only available with a CVT, but the upgraded motor can be had with a six-speed manual as well. For the larger engine, the CVT gets a conventional take-off gear that makes shifting feel more natural.
For 2020, the sedan gets a shorter front overhang but a longer one at the back. The track widens in both the front and the rear, but the wheelbase remains the same. The rear seat retains its 41.4 inches of leg room, which is excellent for the class, and cargo capacity stays at 13 cubic feet.
Every Corolla also gets Toyota's considerable suite of active safety tech. This includes automatic emergency braking, adaptive cruise control, lane keeping assist, automatic high beams, and traffic sign detection.
The remaining features are divided across five trims: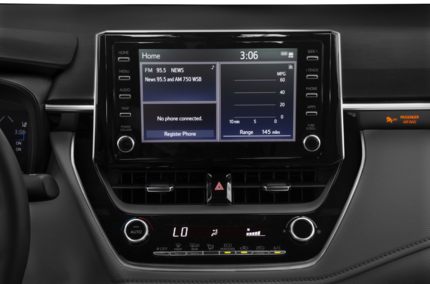 CarsDirect Tip
Although the engine upgrade offers more power and efficiency, the 2020 Toyota Corolla is a better value with the base motor. It's not sporty either way, and the efficiency gains aren't huge. For the best value, stick to the base engine and choose the trim with the feature set that fits best.