Compact car-like fuel economy. The all-new 2020 Toyota Highlander Hybrid is clearly a midsize crossover SUV because of its proportions and ability to seat up to eight. But it gets similar fuel economy to that of a compact vehicle because of its hybrid powertrain. Either way you cut it, that's massively impressive.
Fuel economy for the Highlander Hybrid is rated at an EPA-estimated 36 miles per gallon combined. Those are class-leading figures. They're even more admirable when you consider the fact that the Toyota Corolla Hatchback is rated at up to 35 mpg combined. Like we said, the Highlander Hybrid's fuel economy is impressive.
To get that kind of efficiency, Toyota relies on more than just the powertrain. On upper-level Highlander Hybrids that come with navigation, the vehicle predicts traffic situations to automatically coast to improve fuel economy. Nifty stuff that will help you save money at the pump.
Spacious cabin for most. Toyota stretched the all-new Highlander Hybrid's wheelbase for it to be even more accommodating on the inside. Compared to last year, it has more interior room and cargo space, making it an even better family vehicle.
The seats in the front are wide and accommodating for all body shapes, but lack adjustability for the passenger. The driver gets an eight-way power seat, while the passenger has to make do with just a four-way manual seat. Toyota doesn't offer the ability to adjust the tilt on the bottom cushion, which could be aggravating for some.
Like many midsize crossover SUVs, the Highlander Hybrid offers either a bench seat for the second row or available captain's chairs for easier access to the third row. The bench seat provides an ample amount of room for three adults to sit comfortably across, and with 41 inches of rear leg room, there's plenty of space for everyone. The third row, though, only has 27.7 inches of leg room, so it's best left for smaller passengers.
Cargo space in the Highlander Hybrid measures in at 16 cubic feet behind the third row, 48.4 behind the second row, and a total of 84.3 with both rows down. These figures are excellent for the segment, but trail behind a few competitors.
Because of the way Toyota designed the cabin, there are multiple cubbies to store small items. We love that, as housing everyone's stuff becomes so much easier.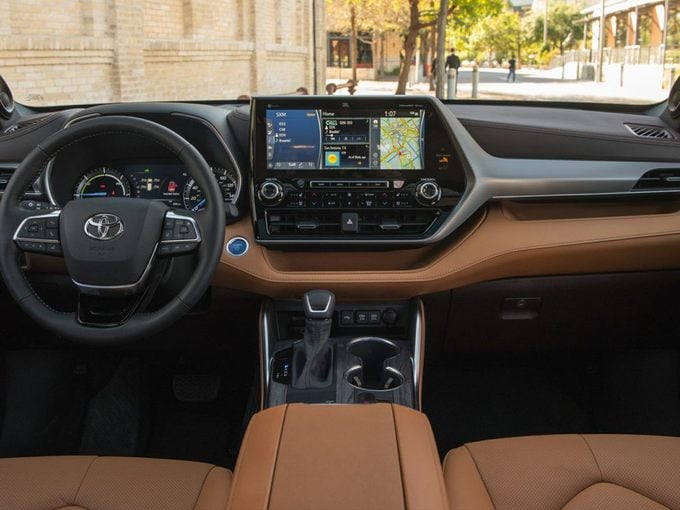 Tech is now standard. Toyota's mended one of the biggest issues we had with the Highlander Hybrid for 2020: the amount of tech you get as standard. Now, every Highlander Hybrid comes with Apple CarPlay, Amazon Alexa, and Android Auto that's controlled through an 8-inch touchscreen. The base hybrid also comes with advanced voice recognition, Bluetooth, a USB port, wi-fi hot spot, and satellite radio.
The number of safety features has gone up, too, as the Highlander Hybrid now comes with the Toyota Safety Sense 2.0 suite as standard throughout the lineup. It's a comprehensive bundle that includes automatic emergency braking, lane keeping assist, adaptive cruise control, and more.
With features like these as standard, the Highlander Hybrid offers great value.
Awkward styling. The jury's still out on whether the Highlander Hybrid's new design works or not. While the new model is certainly an improvement over last year, it still doesn't look quite right from some angles. It's definitely interesting, but not attractive. We're especially torn over the front end, which has an aggressive look thanks to the slim headlights, ridged hood, and wide grille that clashes with the rest of the smooth body.
The exterior's design is also peculiar when you look at the inside, which is as plain Jane as can be. There are sweeping lines on the dashboard and simple controls, but it's not nearly as engaging as what you'll find on the outside. There's also a large difference in material quality depending on what trim you get, as lower trims feature numerous hard plastics while higher models coming with lush appointments.
Final thoughts. Consumers looking for a midsize crossover SUV that can seat up to eight and get excellent fuel economy will find the 2020 Toyota Highlander Hybrid to be in a class of its own. The extensive changes that Toyota made for the model year have made it much better than before. It hits all of the right notes for families that want to save money on fuel and then some.
We're not left wanting a lot more from the Highlander Hybrid. Sure, the third row can be a little more accommodating, but that's the case with nearly every other midsize option. While subjective, we would've like to see a more elegant design, but that's a personal thing.
The only other midsize crossover with a hybrid powertrain is the Ford Explorer Hybrid. It's not nearly as efficient with a combined rating of 28 mpg, but has a more spacious cargo area, a much more powerful powertrain, and better styling.
Outside of the hybrid realm, the Honda Pilot is another one of our favorites. It's more conservatively styled than the Highlander Hybrid, has slightly less cargo space, comes with a more powerful engine, and has a refined ride.