New look, but is it the look it needed? The Toyota Highlander needed a redesign to keep pace in its fast-changing segment, as its straightforward design lacked any excitement. In 2020, Toyota obliged with an upright design similar to the Toyota RAV4, but the Highlander went a step further with bold body lines that are uncharacteristic of the typically understated crossover.
Along with its more aggressive stance, the redesigned 2020 Toyota Highlander receives an upgraded infotainment system and more standard active safety features.
Fresh look may be a bit much. The Highlander gets a bold new look that tosses more curves and creases on its body than the straight-lined previous generation. This brings a more upright stance and muscular lines that combine old-school SUV styling with modern sleekness.
But those lines maybe a little too busy for some buyers, especially the character line that starts at the base of the doors and flows over the flared rear shoulders. Part of what made the previous Highlander popular was its lack of drama, and the 2020 model departs from that.
Buyers who prefer the older, toned-down look of yesteryear can look to the Nissan Pathfinder to meet their needs.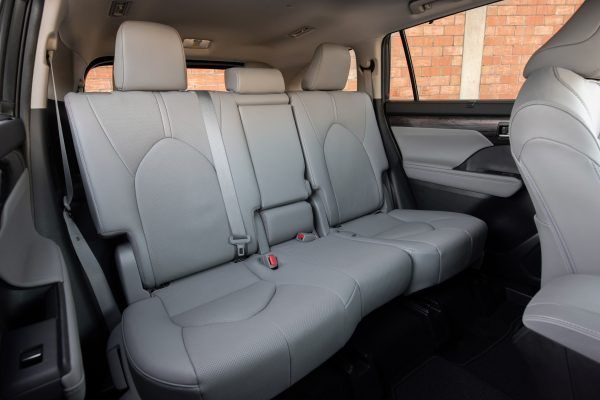 Hard plastics or not, the cabin is sharp. Inside, the Highlander takes a step back from the bolder exterior to deliver a well-laid-out and simple interior design. It boasts plenty of horizontal lines to give it a roomier look, and Toyota collected all its buttons and knobs in one tidy square in the center stack.
With its new entry-level L trim, Toyota had to cut a few corners to open the Highlander to more buyers. This base trim saves cash by using more hard plastics than Highlander buyers of years past are used to. Despite these cheaper plastics, the cabin looks good. Add in the premium materials in the higher trims, and it's downright stunning.
The interior also offers loads of space, especially in its second row. Here, passengers will enjoy 41 inches of legroom to sprawl out, which easily beats the Chevrolet Traverse's 38.4 inches and the Ford Explorer's 39 inches. The only downside to the Highlander's second-row seats is their lack of adjustment.
The third row, however, leaves a lot to be desired with just 27.7 inches of legroom, rendering it a torture device. Buyers who plan to put someone they actually care about in the third row will find more suitable alternatives in the Traverse (33.5 inches), Honda Pilot (31.9 inches), or Pathfinder (30.7 inches).
An entry-level model that's not so entry-level. In 2020, the Highlander gains a new L trim that makes it more accessible to those on a tighter budget. But at $35,720, it's hardly an economy rig. While that base price is lower than the $37,870 Explorer, there are far cheaper base models, including the $32,775 Pathfinder and the $32,770 Pilot.
For that inflated base price, though, the Highlander comes loaded with a power driver seat, keyless ignition, LED headlights, three-zone climate control, 18-inch wheels, automatic emergency braking, an 8-inch touchscreen, Apple CarPlay, and Android Auto.
Unsurprisingly, the two models that lack standard smartphone integration in this class are the lower-cost Pilot and Pathfinder. The Pilot takes its spartan base model a step further with its standard 5-inch non-touchscreen display. So, while these models may be cheaper, the Highlander offers better value.
Final thoughts. The 2020 Toyota Highlander offers buyers a quick glimpse into the past with its throwback upright design, but is this what buyers really want, or is it a solution looking for a problem?
Inside, though, there's no debating the Highlander's still a top-notch crossover with loads of room, a classy design, a high luxury ceiling, and loads of standard tech. Move up a few trim levels, and the Highlander once again borders on luxury status with its upscale materials and features like a 12.3-inch touchscreen, a JBL audio system, a panoramic sunroof, and 20-inch wheels.
Buyers who need three rows but have tighter budgets can get the more stripped-down Pilot or Pathfinder. But don't confuse their thousands in savings with value, as these models lack many of the tech features buyers expect in today's cars.
The Highlander also offers incredible room in the first and second rows. Shoppers who plan to use the third row more frequently may find the Highlander's rearmost seat too tight. These buyers will find better options in the Explorer and Traverse.