Practical and efficient. Unless you've sworn off the internet, ditched social media, and canceled all your print subscriptions, you're probably aware that one of the auto industry's biggest trends is electrification. Despite all the noise and headlines, many buyers will likely prefer hybrid offerings over electric: there's no range anxiety and the familiar driving experience is comforting. It's a great way to get a conventional product with exceptional gas mileage.
This is precisely the calling card of the 2020 Toyota RAV4 Hybrid. For all intents and purposes, it's a RAV4 – one of the most popular crossovers of all time. And yet its efficiency is far better than anything else in its class that doesn't wear a "hybrid" badge. Its ability to be as miserly as it is practical makes it a notable offering in a crowded and competitive segment.
Hybrid efficiency. What makes the RAV4 Hybrid notable is, of course, its hybridized powertrain. The RAV4 Hybrid takes the standard 2.5-liter four-cylinder gas engine and augments it with a battery and electric motor.
In the name of efficiency, the eight-speed automatic transmission found in ordinary RAV4 models is subbed out for a continuously variable transmission. All hybrid models are all-wheel drive thanks to an electric motor that drives the rear wheels. Total output from this setup is 219 horsepower, which is 16 more than a non-hybrid RAV4.
But the hybrid isn't about horsepower – it's about mileage. And in that regard it doesn't disappoint: the EPA rates the hybrid at 41 miles per gallon city, 38 mpg highway, and 40 combined.
These figures would be laudable even when considered in a vacuum. But compare the numbers to the competition and they impress all the more. The recently-deceased Nissan Rogue Hybrid only mustered 33/35/34 mpg (city/highway/combined).
The 44 mpg city rating of the all-new 2020 Ford Escape Hybrid betters the RAV4 Hybrid, but its 37 mpg highway rating falls short of the Toyota. A 2020 Honda CR-V Hybrid is due out soon, though it's still to be seen whether its forthcoming EPA ratings will trump the Ford or Toyota.
From behind the wheel, there's not much to suggest the complex powertrain under the hood. It drives just like any other RAV4; that is, a little on the slow and unrefined side, but fair enough otherwise. The ride is pleasantly supple over rough pavement and the AWD system does a good job of allocating traction between the front and rear axles.
That the RAV4 Hybrid rides and drives so similar to any other RAV4 is a testament to how far the technology has come. No drivability sacrifices need be made to enjoy the efficiency of the hybrid model. That's a win in our book.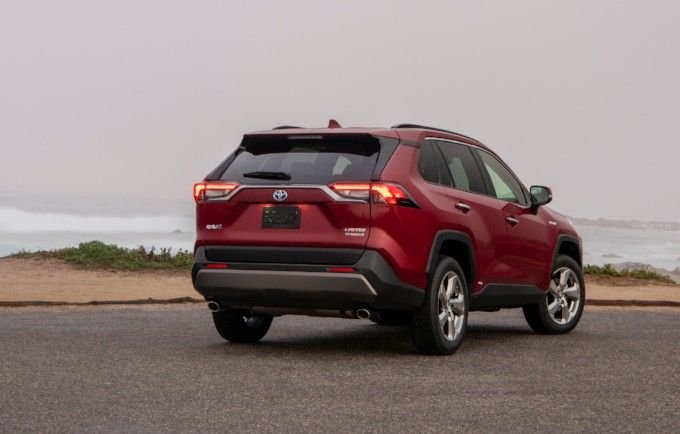 Style begets compromise. The RAV4 Hybrid, like all RAV4s, is a butch little trucklet that seems intent on proving to Jeeps and Subarus that it too can play on the forest roads. But as with high heels and skinny jeans, style doesn't come without cost. The RAV4's cool looks result in a less-than-spacious interior that might disappoint those familiar with more pragmatic Toyotas.
You first notice the stylistic concessions with rear doors that feel narrower than they should be; we imagine parents won't have the easiest time trying to wrestle a car seat through the marginal door openings. Other compact crossovers offer larger rear doors that make ingress and egress easier.
Once back there, the thin, rather flat seat cushions are more reminiscent of a bus station bench than a living room recliner. They'll be fine enough for smaller folk, but those of more heftier builds may find them uncomfortable. The 37 inches of rear legroom matches that of the Escape Hybrid.
The headroom in the rear is slightly better than the front, but overall there wasn't as much clearance as would have liked. Our 5-foot-11-inch road-test editor found his head grazing the headliner while sitting behind the wheel. It's worth noting that our test car was fitted with the optional panoramic roof; models without this feature return at least another inch of headroom.
The most impressive bit about the interior is the cargo hold, where there's 37 cubic feet of space available behind the second row. This is normally the sort of dimension that suffers when a car is hybridized, thanks to the bulky batteries and their tendency to eat into cargo space. The RAV4 Hybrid manages to avoid this common pitfall, and boasts more room out back than both the Escape Hybrid or Rogue Hybrid.
Feature-laden. The RAV4 Hybrid is no less generous with features than non-hybrid models. It's also available with nearly all standard RAV4 trim levels, with only the TRD and Adventure trims being excluded from the Hybrid lineup. The result is more budget-and-feature flexibility than the Escape Hybrid offers.
Every RAV4 Hybrid gets a 7-inch touchscreen and a single USB port, and higher trims add an additional five USB ports, a power-adjustable driver seat, and premium upholstery.
A full roster of active-safety features are standard as well, including automatic emergency braking, lane keeping assist, and blind-spot monitoring. An 8-inch touchscreen and premium audio system are available on most trims and standard on the top-spec Limited.
Those are just a few highlights from the full standard equipment list, but suffice it to say Toyota isn't skimping on features. That said, it's up against some tough competition with the Escape Hybrid, which offers notable standard features like heated seats, a 12.3-inch fully digital cluster, and an 8-inch touchscreen. However, it's worth noting that the cheapest Escape Hybrid is about $2,000 pricier than the cheapest RAV4 Hybrid.
Final thoughts. The most impressive thing about the 2020 Toyota RAV4 Hybrid is that its excellent mileage comes at hardly any practical costs. There's no electric range to worry over, handling and acceleration are no worse than the non-hybrid variants, and there's not a mound of batteries commandeering legroom or cargo space.
Unless you want one of the off-road focused trims – which, in all honesty, are off-road more in looks than substance -– the RAV4 Hybrid is the best iteration of the RAV4 family.
But is it the best compact hybrid SUV? That's a tougher call to make. Ford's new Escape Hybrid is no second-rate machine, and its great city mileage and array of standard features certainly make it worth cross-shopping. And Honda's upcoming CR-V Hybrid is sure to be as fiercely competitive as the ordinary CR-V already is.
All of this is to say one thing: there's been no better time to want a hybrid utility vehicle. And, within this tiny segment, the RAV4 is an excellent choice, as long as the narrow rear doors and uncomfortable back seat can be looked over. If you bring one home, we're sure you'll have no regrets.