Looks can be deceiving. In 2019, the Toyota RAV4 got a brand-new look that brought in a more rugged design akin to the brand's Tacoma pickup and 4Runner SUV.
The 2020 Toyota RAV4 is a carryover model, but it leans into this design with a new TRD Off-Road model that gives it an even more rugged look and some of the greasy bits needed to tackle more severe terrain.
While it may look the part of an off-roader, this is no Tacoma or 4Runner, so temper your inner off-road enthusiast when you see that "TRD Off-Road" badge.
Regardless of its somewhat deceiving badges, the RAV4 continues to be a leader in a class that includes legends like the Honda CR-V, Subaru Forester, and Ford Escape. Here's how it stacks up.
Rugged looks without taking it too far. The Toyota RAV4 is a stunner in the looks department, as it carefully layers the brand's legendary Tacoma and 4Runner styling over this soft-roader's unibody chassis.
It boasts a bold grille, bulging wheel flares, and an upright stance, but it does so without being offensive to traditional crossover shoppers.
Buyers seeking to embrace the RAV4's new-found ruggedness can do so in the even more rugged-looking TRD Off-Road model. It adds TRD-tuned shocks, off-road wheels and tires, twin-tube shocks, and more. But don't mistake this for a rock crawler, as the RAV4 TRD Off-Road is only slightly more muscular under the skin than any other trim with all-wheel drive.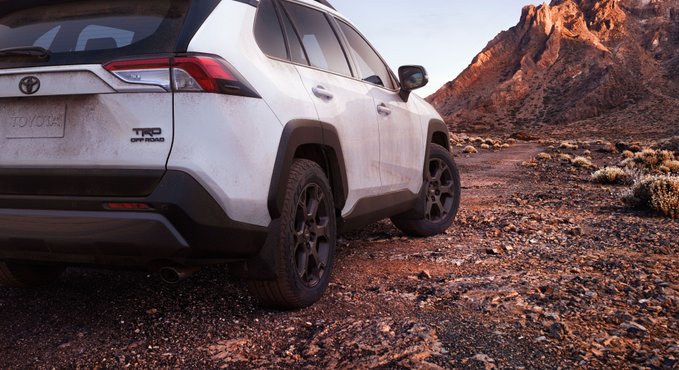 Sharp cabin with a few compromises. Inside, the RAV4 is just as stylish as its body implies. It boasts a clean design with a dash-top touchscreen, chunky HVAC knobs, a limited number of buttons, and loads of soft-touch material on touchpoints in higher trims.
That said, things are far from perfect in the RAV4's cabin, as the lower trims still have plenty of plastics that cheapen it up. Also, the thick C-pillar may add to its rugged outward appearance, but it creates quite the blind spot.
Front-seat riders will also notice the RAV4's 37.7 to 39.5 inches of headroom leaves anyone over 5-foot-11 getting a little too personal with the headliner. Taller families will find the extra headroom they need in the CR-V (38 to 40.1 inches) or the Forester (40.2 inches).
Cargo room is no problem in the RAV4 with up to 37.6 cubic feet with the rear seats upright and 69.8 cubes with the seats folded. If this isn't enough for you, you can always opt for the rolling cavern that is the CR-V and its 75.8 cubic feet of cargo space with the rear seats folded.
The RAV4's got your tech – all the tech. The Toyota RAV4 forgets no one when it comes to technology. In 2020, standard Android Auto joins the existing Apple CarPlay and Amazon Alexa integration so every smartphone owner can connect their device with ease. Not even the popular CR-V offers this integration standard – Apple CarPlay and Android Auto are standard only in EX and higher trims.
The RAV4 also offers a standard 7-inch touchscreen, a six-speaker audio system, and in-car wi-fi. Not to pick on the CR-V, but this popular Honda's standard equipment includes a tiny 5-inch infotainment screen and four-speaker audio system. The CR-V also lacks standard wi-fi.
For those who want safety tech, the base RAV4 LE has nearly every boxed checked with its standard automatic emergency braking with pedestrian detection, lane departure warning with steering assist, lane keeping assist, automatic high beams, full-speed adaptive cruise control, road sign assist, and hill-start assist. The only notable optional safety tech includes blind-spot monitoring with rear cross-traffic alert and front and rear parking sensors with rear automatic braking.
With all these safety goodies and its top-notch crash-test ratings, the IIHS named the RAV4 a Top Safety Pick Plus. The Forester matches its Tops Safety Pick Plus rating, but the Nissan Rogue, Mitsubishi Outlander, Ford Escape, and CR-V fall just short with Top Safety Pick honors.
Final thoughts. The 2020 Toyota RAV4 looks the part of a legit off-roader with its Tacoma- and 4Runner-inspired looks, but it doesn't have the greasy bits to handle full-on trail slopping. For the average crossover shopper, though, the RAV4 has all the tools they need and even a few they may only require in sticky situations.
Buyers who prefer something softer but still need cargo room and reliability will find this combination in the CR-V. That said, they'll need to bump up to the second-tier EX trim to match the RAV4's massive list of standard tech.
Drivers over 6-feet tall may want to skip the RAV4 altogether, as they'll find themselves questioning their purchase when they find out they're stuck slumping to avoid hitting the headliner. These buyers will prefer the extra 0.6 inches of headroom in the CR-V or the extra 0.5 inches in the Escape.