Model Preview
Besides some feature tweaks and mild styling updates, the Toyota Sequoia has remained unchanged since its second-generation model debuted in 2008. When the 2020 Toyota Sequoia hits showrooms, we expect this carryover trend to continue.
The Toyota Sequoia has carried the same upright, rugged SUV styling since 2008. It did receive a light front-end refresh in 2018 that brought in a new grille and revised headlights, but it's otherwise remained the same. With this large SUV not Toyota's focus these days, we expect the automaker to roll out the 2020 Toyota Sequoia with the same styling.
Inside, we also anticipate no changes to the 2020 Toyota Sequoia. We expect this massive SUV to continue with the same spacious but dated interior it has for ages, which will include lots of hard plastics, obvious truck-style layout, and chunky climate-control knobs. But this large SUV will make up for its dated feel with above average tech like a standard 6.1-inch touchscreen, SiriusXM radio, and tri-zone climate control. Sadly, though, we don't expect it to offer Apple CarPlay and Android Auto.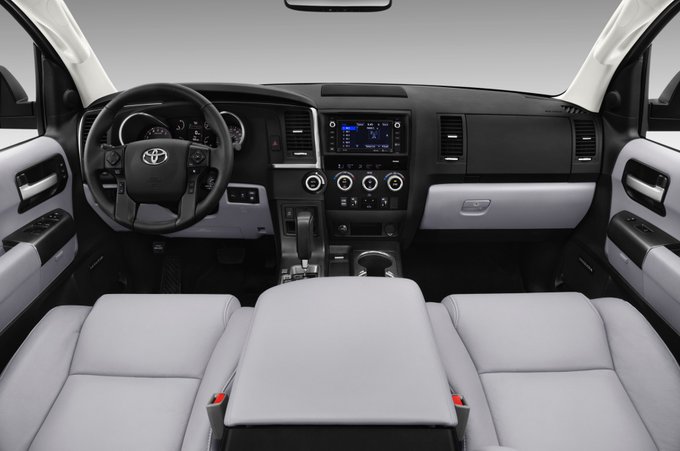 Under its hood, we expect the 2020 Toyota Sequoia to continue with the same beefy V8 it's had for ages: a 5.7-liter unit with 381 horsepower and 401 pound-feet of torque. This V8 unit will push its power through a six-speed automatic transmission and out to the rear wheels. Optionally, buyers will be able add a part-time four-wheel-drive system with a low-range transfer case, which will boost off-road capability.
The IIHS and NHTSA have not and likely will not test the current or 2020 Toyota Sequoia for crash safety, but it does feature plenty of standard advanced safety tech, including a rearview camera, blind spot monitors with rear cross-traffic alerts, and automatic emergency braking. Optionally, buyers can add lane-departure warnings, forward-collision warnings, and automatic high-beam headlights. We expect this list of safety features to remain the same in the 2020 Sequoia.
Pricing & Release Date
There is no official release date set for the 2020 Toyota Sequoia, but we expect production to start in July 2019, putting its arrival in showrooms around September 2019.
With no changes coming, we expect the 2020 Sequoia's pricing to remain close to the 2019 model's MSRP range of $49,995 to $68,930 (destination fees included).
The 2020 Toyota Sequoia will compete with the GMC Yukon, Chevy Tahoe, and Ford Expedition.
Learn more about the current Sequoia on sale now »
Pictured: 2019 Sequoia