Redesign Preview
After taking the 2019 model year off — only the Yaris Sedan was available in 2019 — the Toyota Yaris Hatchback returns in 2020. The all-new 2020 Toyota Yaris Hatchback will roll in with a new look, an updated powertrain, and tons more features.
The 2020 Toyota Yaris Hatchback will hit showrooms with a familiar look, as Toyota will base it on the same Mazda 2 platform as the sedan, albeit the hatchback version of the Mazda 2. This will give it a cab-rearward body with a gaping lower air intake, sharp headlights, pronounced character lines down the sides, and a slight curve to its hatch. This all adds up to a sportier look than the previous model that will target younger buyers.
Like the Yaris Sedan, the 2020 Yaris Hatchback makes no real attempt to cover up its Mazda roots inside, save for the Toyota badge slapped on the distinctly Mazda steering wheel. But with its sharp three-post steering wheel, easy-to-use climate-control knobs, sporty round air vents, clean dashboard, and floating infotainment screen, this is a forgivable case of badge engineering.
This 161.6-inch-long hatchback is 2.4 inches longer than the previous Yaris Hatchback, which gives it enough room for up to 15.9 cubic feet of cargo area while leaving enough room for passengers.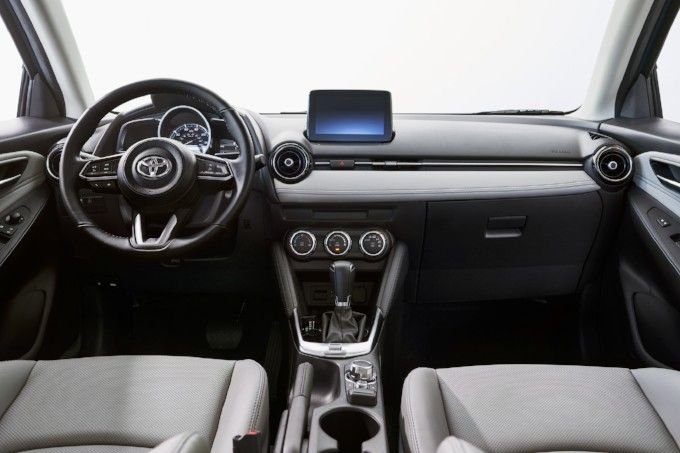 In the standard features department, the 2020 Toyota Yaris Hatchback is well-equipped. The list of standard goodies includes a 7-inch touchscreen, Apple CarPlay, Android Auto, Bluetooth, SiriusXM radio, USB ports, steering-wheel-mounted controls, and more. On top of that, the base Yaris LE will come standard with navigation hardware, so you only need to buy the navigation SD card from a Toyota dealership to activate it.
Under its hood, the 2020 Yaris Hatchback will pack a 1.5-liter four-cylinder engine with 106 horsepower. Though this isn't a ton of power, the engine's high compression ratio and direct fuel injection give it great responsiveness while the six-speed automatic transmission delivers crisp shifts. And thanks to Mazda's years of delivering zoom-zoom-ready chassis, the Yaris Hatchback is ready for twisty back roads.
As with most Toyota models, the 2020 Yaris Hatchback will come standard with forward collision warning and low-speed automatic emergency braking. While the automatic emergency braking opens the door to the Yaris Hatchback earning the IIHS Top Safety Pick status, we don't expect it to earn this rating because its sedan sibling flunked the headlights test.
Pricing & Release Date
The 2020 Toyota Yaris Hatchback's pricing is not available yet, but we expect it to start slightly higher than the Yaris Sedan. The hatchback will have just two trim levels — LE and XLE — and the sedan's version of these trims run $18,630 and $19,630, respectively (destination fees included). The Hatchback could start around $19,000 and top out just shy of $20,000.
There is no mention of when the 2020 Yaris Hatchback will hit showrooms, so stay tuned for updates.
The 2020 Toyota Yaris hatchback will compete with the Honda Fit and Hyundai Accent.
Learn about Toyota's current lineup »
Pictured: 2020 Yaris