The People's crossover. Now that Volkswagen has gone ahead and axed the Jetta Sportwagen and Alltrack models, fans of the People's Car must make do with the Tiguan if they want a small practical runabout that's not a hatchback. This isn't likely to be much of a sore point with today's shoppers and their proclivity for utility vehicles.
The 2020 Volkswagen Tiguan is a convincing example of that popular breed: it's spacious, comfortable, and well equipped – that last point newly relevant thanks to an infusion of driver-assist safety features and other technology for the new model year. There's even an available third row, which is a real poke in the eye to the likes of Honda and Toyota.
It might not have the character – or the standard manual transmission – that the wagons had, but the VW Tiguan nonetheless stands out in a generally homogeneous segment. For that, we applaud it.
Long wheelbase, big space. The Tiguan calls itself a compact crossover, but it might be taking some liberties with the term – with a 185-inch length and a 110-inch wheelbase, it's the largest compact crossover on the market. And all that size pays dividends for cargo space and leg room.
Special thanks goes out to that 110-inch wheelbase. To put that measurement in perspective, most crossovers in this class are running a 105-inch wheelbase, give or take a couple inches. Though 5 extra inches doesn't sound like much, it makes a marked difference in both real and perceived interior space. This is why the Tiguan's second-row leg room trumps the competition by a least a couple inches.
It's also why a third row is standard on front-wheel-drive models and optional on all-wheel-drive examples. This is a novelty for this class: most small crossovers don't have the room to shoehorn another row of seats into the way back. But that longer wheelbase means VW can make it work, even if the third-row leg room is laughable. We'd only use these jump seats for a quick jaunt around town, as there's just not enough room for anyone who's out of grade school.
If you an AWD model and skip the third row, you'll get a cavernous cargo hold. It can tote 38 cubic feet of stuff with the second row in place, and over 73 cubes with it folded.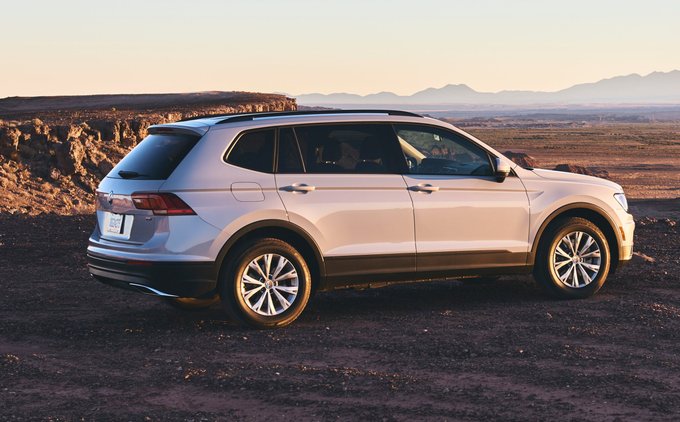 Lackluster performance, subpar fuel economy. The Tiguan's roominess and size come at the cost of weight. And weight, the perennial enemy of performance and gas mileage, doesn't go softly into that good night.
Simply put, the Tiguan is sloooow: it takes just about 10 full seconds for it to hit 60 mph from a standstill. This sort of showing makes it clear that the 184 horsepower put out by the 2.0-liter turbocharged four-cylinder engine isn't enough to properly overcome the Tiguan's 3,900-pound curb weight.
Because you have to flog it to get anywhere, the Tiguan is likely to do worse than the already-mediocre, EPA-estimated fuel economy of 22 miles per gallon city, 29 mpg highway, and 25 combined.
Compared to the competition, these are disappointing numbers. A Chevrolet Equinox gets 28 mpg combined, the Subaru Forester (with its standard AWD) achieves 29 mpg combined, while a Honda CR-V is good for 30 mpg combined. Hybrid versions of the Toyota RAV4 and Ford Escape both top 40 mpg combined. If there's a slacker in this group, it's the VW.
Features and equipment. For 2020, VW decided to make blind-spot monitoring, rear cross-traffic alert, and automatic emergency braking all standard. It still doesn't make the Tiguan as laden with safety features as a CR-V or RAV4. However, it's certainly an improvement over last year's model, which didn't include any active safety features as standard.
As for infotainment, the Tiguan is well equipped with a standard 6.5-inch touchscreen, Apple CarPlay and Android Auto, and a wi-fi hot spot. If you move up to the top SEL Premium trim, you get amenities like an 8-inch touchscreen, leather upholstery, and a Fender audio system, among other things. But you'll be paying close to $40,000 for one.
At that price point, the VW's value is dubious – $40 grand can buy you a lot of car if you shop right, and the Tiguan in SEL Premium trim just isn't special enough to merit that kind of price tag.
The better buy is one of the lower-tier trims. Even on a base S model, the Tiguan interior feels more premium than anything from the comparable Japanese or American competition – it has that classic Teutonic sense of quality.
There's nothing seemingly cheap about it, even if on close inspection it doesn't use much better materials than its rivals. If VW knows anything, it's how to make mainstream feel luxurious.
Final thoughts. As a compact crossover, the 2020 VW Tiguan plays in one of the most competitive sandboxes there is. Yet it doesn't fall through the cracks or disappear in the shadow of the segment welterweights. The Tiguan, through smart styling and spacious digs, holds its own in a crowded and cutthroat segment.
Is there room for improvement? Certainly – its performance both at the track and at the pump is embarrassing. And it's still no replacement for a good, old-fashioned wagon, so hold on to your SportWagens and Alltracks for a while longer if you can. But if it's a crossover you pine for, the Tiguan is well worth a look.