Safety first and foremost. Volvo's well-deserved reputation for safety stretches back to 1959 when with the three-point seat belt first appeared on the Volvo PV 544. The 2020 Volvo XC90 continues the tradition in the modern era.
Standard active safety features include forward collision warning, low- and high-speed automatic emergency braking, post-collision automatic braking, blind-spot monitoring, rear cross-traffic alert, a driver attention monitor, lane departure warning, lane-keeping assist, adaptive cruise control, road sign assist, and road departure mitigation.
Also standard are a number of specialized advanced safety systems that include power child locks (the driver can lock the rear doors and rear power windows to prevent them from opening from the inside), emergency brake lights (in a panic stop, the brake lights will flash four times per second to alert following vehicles of a problem ahead), and brake pedal release (in certain frontal collisions the brake pedal is designed to release and move down to the floor to reduce the risk of right foot and leg injuries).
Advanced safety features that are either optional or found on upper trims include active bending headlights, a surround-view camera system, front parking sensors, and Volvo's Park Assist Pilot semi-autonomous parking feature.
The 2020 XC90 scored a five-star overall safety rating from the NHTSA.
Stylish, restrained, and sophisticated. The elegant and stylish lines of the XC90, the brand's largest vehicle, reject the theory that a prerequisite for large crossovers is a huge, brutish grille. Sleek, sharp lines and thoughtful styling details blend well with the minimalist interior.
The inside favors elegance and restraint with brushed aluminum detailing, soft leather, light wood accents, and an Orrefors crystal shift lever on upper trims. Luxury touches include a portrait-style 9-inch touchscreen with Apple CarPlay and Android Auto capability.
Seating is supportive with a wide range of adjustability, offering all-day comfort for five adults. Cargo space checks in at 15.8 cubic feet behind the third row, 41.8 behind the second, or 85.7 cubic feet with both back rows folded down.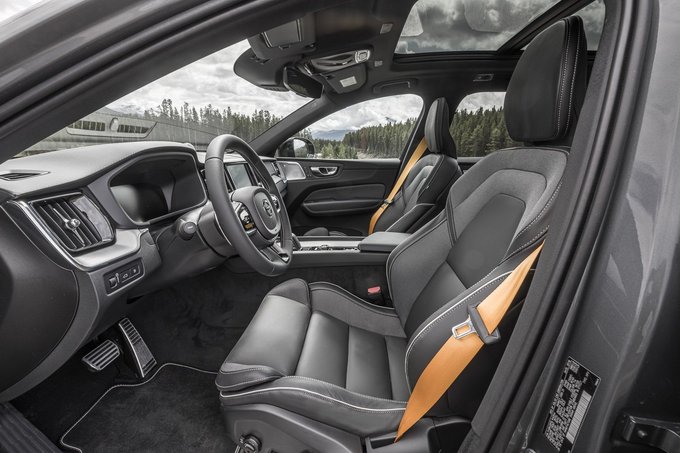 Pick a level of luxury. The XC90 is available in three trim levels. Even base Momentum models are well equipped with a panoramic roof, a hands-free power tailgate, an 8-inch instrument display, keyless entry and start, a leather-wrapped steering wheel and shift lever, four-zone automatic climate control, a power driver seat with memory, a power front passenger seat seat with lumbar support, and a high-performance audio system
Available features like front seat massage, power front seat cushion extensions, heated front and rear seats, an Orrefors crystal shift lever, a Bowers and Wilkins audio system, and leather-cladding for the dashboard, upper door panels, sun visors, and grab handles transform the XC90 into a true upscale luxury vehicle.
But while the 9-inch, portrait-style infotainment touchscreen is impressive, the menu-dense system (there are hard buttons only for front and rear defrost settings) often requires multiple screen selections to perform the simplest of functions.
Powertrain choices. Like much of the rest of Volvo's lineup, the XC90 is powered by a trio of powertrains, all based on a direct injection 2.0-liter turbocharged four-cylinder gasoline engine.
T5 models, offered with either front- or all-wheel-drive, feature the base engine that develops 250 horsepower and 258 pound-feet of torque. The T6 engine adds a supercharger, increasing output to 316 hp and 295 lb-ft of torque. At the top of the range, the T8 plug-in hybrid adds an 87-hp electric motor, resulting in a total of 400 hp and 472 lb-ft. All three perform capably, with the T8 hybrid system offering solid urban fuel efficiency.
While hardly a performance crossover SUV, steering is light and direct. The XC90's smooth and seamless eight-speed automatic transmission complements the composed standard suspension. The optional air suspension enables customized handling settings for improved comfort, dynamics, or ground clearance is another highlight.
At the same time, the XC90 can't match the acceleration and handling characteristics that the top performance models from BMW and Mercedes-Benz lay claim to.
Final thoughts. Hardly perfect with middling fuel economy numbers, an overly-complex infotainment system, and a base engine offering only modest power, the 2020 Volvo XC90 still shines. Courtesy of a smooth ride, clean lines, simple and sophisticated interior, and a plethora of advanced safety features, the XC90 is a solid contender in the midsize luxury crossover class.
In terms of competition, Volvo's largest crossover still can't match the cavernous space of full-size crossovers and SUVs, the performance of the German's top series, or the off-road chops of some, such as the Mercedes-Benz G-Class or the offerings from Land Rover. And like the rest of the lineup, luxury buyers may prefer a more prestigious badge, although, in our opinion, they'd be missing out.