In 2015, Acura dropped its compact TSX and midsize TL models, and replaced them with a single model: the midsize TLX. This new sedan, which now bridges the gap between the ILX and RLX, instantly became one of Acura's most popular models with its delicate balance of sportiness, luxury, and comfort. Since its debut, the TLX has seen only a few updates, including the new-for-2020 PMC Edition, but we expect a full redesign for the 2021 TLX. The upcoming Acura Type S concept may give us a hint at what to expect from the 2021 Acura TLX.
The Type S concept carries a lot of the current TLX's design language but pushes it into a new level of sportiness with sharp ridges on the hood, larger air inlets on the bumper, larger wheels, deep scallops in the doors, a more coupe-like roofline, thinner chicane taillights, and quad-exit exhaust tips. Keep in mind, the Type S concept will likely represent a performance-focused version of the 2021 TLX, so we expect the lower-trimmed models to feature more mainstream front air inlets and exhaust outlets.
There are no glimpses inside the Type S Concept, so it's not as easy to piece together what the 2021 TLX's cabin may look like. A quick look at the latest Acura model, the RDX, may give us a clue with its red-lighted gauges, split-lower-spoke steering wheel, push-button transmission, floating infotainment screen, and shaplier dash. These are all likely to be staples in next-generation Acura models, albeit scaled down for the TLX. If the Type S Concept previews a performance-geared TLX, look for sportier interior amenities, including a flat-bottom steering wheel, bolstered seats, and more.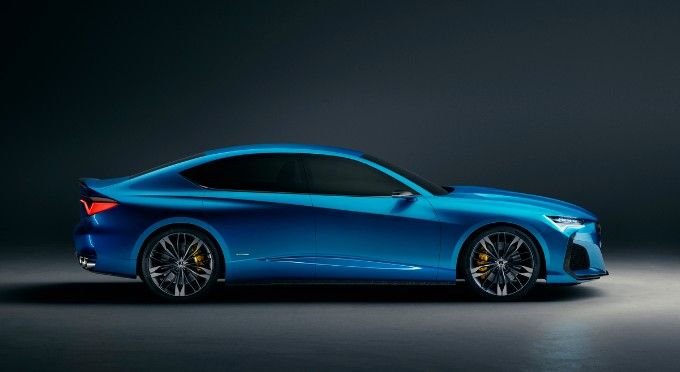 What lies under the 2021 TLX's hood remains uncertain at this point, but if Acura picks up on the recent turbocharging trend, we could see it make the same transition its distant cousin, the Honda Accord, made by eliminating the naturally aspirated four- and six-cylinder engines and replacing them with turbocharged four-cylinder units. The current Accord uses a 192-horsepower turbo 1.5-liter and a 252-hp 2.0-liter. Though these engines are less powerful than the current TLX's 206-hp 2.4-liter and 290-hp 3.5-liter V6, they are capable of more power, as the 1.5-liter delivers 205-hp in the Civic SI and the 2.0-liter pumps 306 hp into the Civic Type R.
Safety has been a focus for Honda and Acura recently, as the current TLX boasts the latest in advanced safety tech as standard features. These include automatic emergency braking, lane-departure warning, lane-keep assist, road-departure mitigation, adaptive cruise, and more. The current TLX missed being an IIHS Top Safety Pick due to an "Acceptable" rating in the small-overlap crash test. We expect Acura to address this flaw in the redesign.