Drop-dead gorgeous looks. We're all gaga over the handsome canvas of the 2021 Audi A7. It advances its four-door coupe tapestry in a very pleasing manner for a design that's held up well.
Audi designs are nearly universally the same, with some differences in grille mesh, cut-outs, and rooflines. Our focus on the A7 draws attention to how the roof intersects with the beltline to form its liftgate.
The bonus, of course, is the huge cargo area, measuring nearly 25 cubic feet. Hatchbacks were once the ugly child of the automotive world. Audi's designers figured out a way to make them fetching.
A peerless cabin. Audi scores high in all matters of interior layout, quality of materials used, comfort, and luxury. One of its most noteworthy attributes is that it isn't difficult entering and leaving. We've slipped inside sedans that require heads bowed to get in; invariably, we banged them time and again. Not so with the A7.
The front seats are snug, power-controlled, and all-day comfortable. That's just the base model. Various upgrades include 12- or 18-way adjustments, ventilation, and massaging. The rear seat is comfortable for two and bearable for three.
Despite the reclining roofline, the head room is adequate. The only demerit we assigned is for the lowered sight lines in the back. Up front, they're excellent.
Audi sets the bar in all things fit and finish, which is superb. Carefully chosen and quality materials, a soothing design, and an airy cabin blend elegance with sophistication.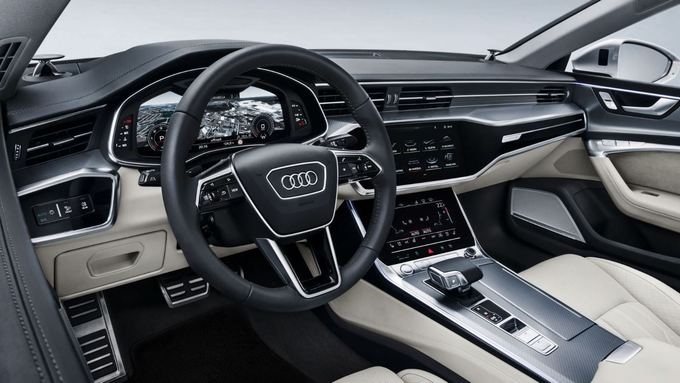 Lots of amenities for the choosing. The A7 comes well equipped with the comfort and tech features we love. With a starting price just over $70,000, that's just expected.
Audi kicks things off with standard 20-inch alloy wheels, a sunroof, a full leather interior, and heated front seats. On the tech side of things, the dual touch-screen display is a sight to behold. The 8.8-inch upper screen manages infotainment, while the 8.6-inch lower screen governs climate control.
Upgrading to the Premium Plus brings in a 12.3-inch digital instrument cluster and a 10.1-inch upper screen. Audi's touchscreens supply a crisp look and are among the best we've seen from a luxury marque. This trim also features a premium audio system and a surround-view camera system.
Two boosted V6 engines for the choosing. Like many other Audi models, this one is divided between A7 and S7 camps, the latter representing the sporty side of the equation. A third option, the RS 7, is for the extreme performance camp.
The base 3.0-liter turbocharged V6 engine is no slouch – it delivers 335 horsepower and works with a seven-speed dual-clutch automatic transmission. Power shuttles to all four wheels, supplying the A7 with wonderful handling. That's no surprise, as its quattro all-wheel-drive system has evolved wonderfully over four decades.
You'll find a four-wheel independent suspension that's upgradable to active dampers or a sport arrangement. Regardless, the standard summer tires with the sport package supply excellent grip. Consider upgrading to four-wheel steering and a rear sport differential for the complete package.
The S7 comes with a twin-turbocharged 2.9-liter V6 that throws down 444 hp and works with an eight-speed automatic transmission. Audi shares this engine with Porsche, thus its pedigree is unquestionably magnificent. It comes with a rear sport differential.
Final thoughts. We think the 2021 Audi A7 is a great package, but if you opt for the potent S7 we understand. The middle of the three A7 trims, Premium Plus, is where we'd shop.
This trim offers the essential comfort items and tech upgrades most buyers want. You can do without the soft-close doors on the top-trim Prestige.