Worthy flagship. The Mercedes-Benz S-Class might dominate among luxury full-size sedans, but that doesn't mean the other players in this esteemed field are any less worthy of consideration. Take the 2021 Audi A8, for instance.
This is the biggest, baddest Audi on the market, a technological tour de force that makes lesser cars look as sophisticated as a Little Tikes ride. It might not enjoy the cachet of the storied S-Class, but make no mistake: the Audi A8 is every bit a luxury flagship.
Luxury exemplified. Audi defines luxury a little differently than its competitors. Mercedes is all about glitz; BMW is stoic and businesslike; Audi bridges the two with a sleek elegance that's understated yet immediately perceptible. In the A8, this means a dearth of chrome and wood but lots of screens, high-gloss surfaces, and subtle color palettes.
All of it helps conjure a sort of 22nd-century atmosphere, with luxury and technology one and the same. Tying it all together are top-shelf materials that swath every surface and build quality that's so consistently excellent it looks like a NASA team screwed everything together.
It should be no surprise that such an environment is an amenable place to spend time in. Front seats have at least 22-way adjustability and are swathed in leather. Heated and cooled front seats are standard, while massaging thrones are optional. The cavernous backseat has 44 inches of leg room.
With the optional Executive Package, the rear seat of the A8 can be brought up to private jet levels of indulgence. The package buys power-adjustable outboard seats with heat, cooling, and massaging functions, and also includes heated arm rests, a rear console, and remote control functions for the radio and climate system.
Not quite so luxurious? The mere 12.5 cubic feet of cargo space in the trunk. Despite its prodigious size, the A8 can hardly stow more luggage than the average compact sedan.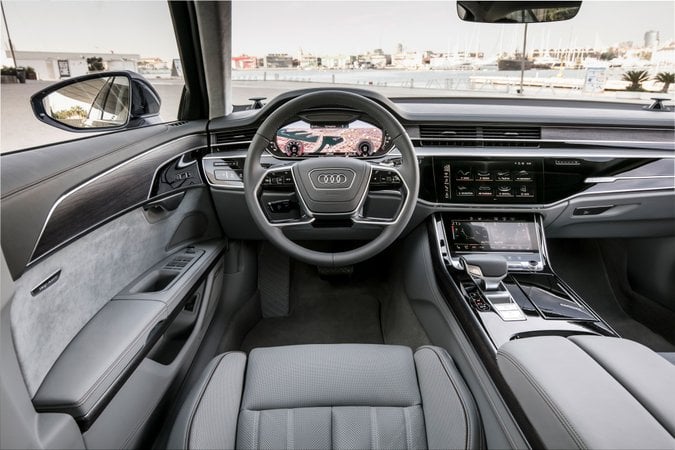 Performance pedigree. A variety of powertrains are available with the A8. All of these are eminently capable at shuttling this big sedan with hushed authority.
Base models get a turbocharged V6 engine that makes 335 horsepower and 369 lb-ft of torque. As with all the other powertrains, an eight-speed automatic transmission and standard all-wheel drive goes along with this combo. 0-60 mph happens in 5.6 seconds, making this the slowest A8 available.
The other option currently available is a 4.0-liter twin-turbo V8. This engine makes a full 453 hp, which is good enough to slash the 0-60 mph time down to 4.5 seconds. It's not only concerned with speed, though; its 48-volt starter/generator system qualifies it as a mild hybrid. The setup improves the automatic start/stop operation for better gas mileage.
For even more power, there's the new S8, which is due out later in the model year. It too uses the 4.0-liter V-8, but bumps output to 563 horsepower. Along with the additional power comes goodies like an active rear differential, rear steering, and summer performance tires.
The hybrid is another latecomer to the party. Once it arrives to showrooms, shoppers will find a 14.1-kWh battery paired to the base turbo V6. Together, combined output is 443 hp. Though the hybrid is no lightweight, the additional weight of the battery doesn't totally negate the additional power, letting 0-60 mph occur in under five seconds.
Whatever engine is under the hood has no bearing on the ride quality. All models ride soft, smooth, and quiet. A standard air suspension soaks up any and all bumps, while various tech helps keep the car in check on the corners. The default suspension setting is a bit too soft for our tastes, but twist the knob toward the sportier settings and things firm up just right.
Abundant technology. Audi has posited itself as a tech-forward brand, and the available predictive suspension might best reflect this ethos. Rather than simply react to bumps and jolts, this suspension uses radar, cameras, and GPS to scan the road ahead and prepare for what's coming. The result is an even smoother ride that never gets flustered.
The predictive suspension also plays a minor safety role; it can detect if a side-impact collision is about to occur and raise the car up to 3.1 inches on that side. Other optional safety tech include adaptive cruise control, a surround-view camera, lane keeping assist, rear cross-traffic alert, and a system that can inform occupants when it isn't safe to open their doors. Standard safety equipment is the usual medley of automatic emergency braking, blind-spot monitoring, lane departure warning, and parking sensors.
Inside, a trio of screens inform the driver and passengers of nearly all pertinent information. The driver looks down at a 12.3-inch digital gauge cluster that offers customizable menus and can even display high-definition Google Earth imagery (for a monthly fee). The center stack has both a 10.1-inch screen as well as a smaller 8.6-inch screen; the former handles infotainment, the latter a standard four-zone climate control system and other vehicle functions.
This Audi infotainment software is one of the finer systems on the market. It's easy to use, a cinch to learn, and renders both icons and images in sharp, clear graphics. The dual screens aren't confusing once the nature of the system is understood, as controls are intuitively divided between the two screens.
Final thoughts. The 2021 Audi A8 plays in what's one of the highest echelons of motoring. To compete here takes more than style and fluff; it demands extreme competency and excellent execution.
After some seat time, we can report with authority that the A8 is no poser. With abundant tech, compelling powertrains, and indulgent comfort, this big Audi deserves its place alongside the best of this segment.