Comfort for most of the family. For families of five (or five plus two small kids), the 2021 Audi Q7 works perfectly as a midsize SUV that coddles passengers with luxury. While the third row is tight for anyone but little kids and getting back there can be a chore, it's power-operated, which is helpful. For everyone else, the Q7 provides plenty of head room, leg room, shoulder room, and luxury features.
Speaking of features, the Q7 is packed with all sorts of high-end convenience features that make the cabin a special place to be. Leather upholstery, heated front seats, three-zone automatic climate control, and real wood trim all give the Q7 its premium feel.
On top of the Q7's lengthy list of premium features, it has an opulent interior design. With two touchscreens taking a large amount of real estate in the center console, the Q7 sports a clean, minimalistic design. In the midsize SUV segment, Audi's crisp look plays a large role in making the Q7 feel upscale in a competitive class.
Cutting-edge technology. The Q7 was refreshed for the 2020 model year, but Audi still made a few changes for 2021. Mainly, the changes all have to deal with its touchscreens. Just like last year, the Q7 comes with two touchscreens: an upper 10.1-inch touchscreen that handles infotainment duties and an 8.6-inch touchscreen to handle HVAC and vehicle settings. For 2021, the screens now have more features, will feature more frequent updates, and respond to inputs quicker.
In addition to the two-screen layout, the Q7 also comes with a 12.3-inch digital instrument cluster running Audi's Virtual Cockpit System. It's a great use of available space and, once you get used to it, works flawlessly.
For 2021, Audi's added more standard safety features to the Q7. Beyond automatic emergency braking, the Q7 now comes with blind-spot monitoring, lane keeping assist, automatic high beams, rear cross-traffic alert, and a driver attention monitor. Together, the changes make the Q7 more high tech than ever and somewhat of a good value option.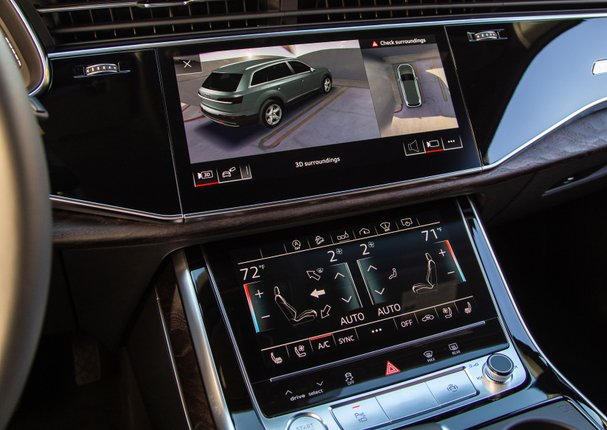 Three strong engines. The Q7 is available with two muscular engines that provide strong performance. Our favorite is the available turbocharged 3.0-liter V6 that makes 335 horsepower and 369 pound-feet of torque. The V6 engine also comes with a mild-hybrid system.
While there's a tiny bit of turbo lag, paddle shifters allow drivers to get the engine in the sweet spot for punchy performance. With a 0-60 mph time of 5.7 seconds, the V6 engine endows the Q7 with great performance for a 5,000-pound SUV. A stout towing capacity of 7,000 pounds is also included with the V6 engine.
With an eight-speed automatic transmission and an all-wheel-drive system as standard, the Q7 is a smooth operator in various weather and road conditions. An available adaptive suspension system means it's supremely comfortable on a highway or composed around corners.
Lumpy exterior design. The high-tech, upscale cabin looks exquisite when compared to the competition, but the Q7's exterior design isn't as youthful as others in the class.
From a style standpoint, there seems to be a disconnect between the sharp front-end design and the bulbous look of the rear end. It's not that the Q7 is ugly, but it lacks the wow factor of other options.
Final thoughts. The 2021 Audi Q7 adds more dimension to an already versatile and luxurious machine. While it may not offer a spacious third row of seats or the fuel economy that competitors offer, it's packed with high-tech features, is incredibly comfortable, and is a strong performer. Few are as well-rounded as the Q7.
When it comes to competitors, the Porsche Cayenne bests the Q7 when it comes to performance, the BMW X5 is more athletic around corners, and the Lincoln Aviator has a more stylish design, as well as a more comfortable cabin.