What's New
For months, rumors had swirled that the Audi TT was to be no more after the 2020 model year. That didn't turn out to be true. The 2021 Audi TT is returning with a heap of new standard equipment, including blind-spot monitoring, Nappa leather upholstery, and navigation.
Despite the updates, the aging TT is finding fewer and fewer takers and the name doesn't quite have the recognition it once did. We imagine the business case for the TT is becoming more difficult each year, so buy one while you can. Those rumors, while wrong this year, may very well prove true next year.
Choosing Your Audi TT
The TT only comes in a single trim and is sold in coupe or roadster guise. Prices begin at $50,845 including destination for a coupe and $54,945 for the roadster.
The higher-performance Audi TTS and Audi TT RS models are covered separately.
Engine Choices
All TT models get a 2.0-liter turbocharged four-cylinder engine that makes 228 horsepower and 258 pound-feet of torque. A dual-clutch six-speed automatic transmission does the shifting. In proper Audi fashion, all-wheel drive is standard. Fuel economy is an EPA-estimated 23 miles per gallon city, 31 mpg highway, and 26 combined.
None of this reads like the typical contemporary sports-car stats, and in reality the TT is more of a stylish touring car than anything else. Its 0-60 mph time of 6.2 seconds is well on the slow side for sporty cars at this price point; even a four-cylinder Ford Mustang will embarrass the TT for tens of thousands less. For something with more oomph, look to the TTS or TT RS.
Passenger and Cargo Capacity
The TT coupe seats four passengers, but good luck squeezing two adults in the back seat. Rear leg room is a marginal 29 inches, limiting its useful to seating small children or holding additional cargo. Convertibles rightly sacrifice the rear seats for the power-retractable canvas roof.
There's 12 cubic feet of cargo space under the hardtop TT's rear hatch, and the rear seats fold down as well. Convertibles must make do with 7.5 cubic feet of cargo space.
Safety Features
While most of the Audi lineup comes standard with, or otherwise offers, a long list of active safety features, the TT hasn't been so lucky. Its dated platform and miniscule sales mean it carries on without even automatic emergency braking. It does come with blind-spot monitoring, rear cross-traffic alert, and front and rear parking sensors.
Connectivity
The TT may well be the only car on sale today without any sort of screen in its center stack. In lieu of a touchscreen, the 12.3-inch all-digital instrument cluster is embedded with Audi's MMI infotainment software. Drivers control it via steering wheel controls, voice inputs, or a rotary knob located on the console.
Despite the unorthodox display, it comes with all the typical features buyers expect in modern infotainment systems: Apple CarPlay and Android Auto, navigation, Bluetooth, HD radio, and available cloud services. A wireless charging pad and a Bang and Olufsen audio system are also standard.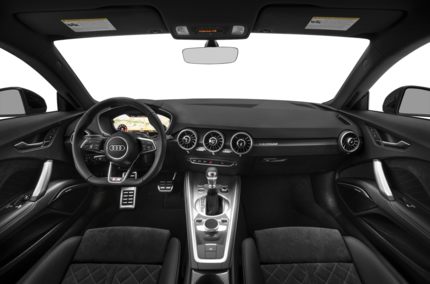 The TT doesn't subdivide into trim levels, so all examples come identically equipped but for paint color. Besides the newly standard quilted Nappa leather and upgraded infotainment system, the TT gets dual-zone automatic climate control, 18-inch wheels, and power-adjustable and heated front seats.
The only package available is the $2,100 S Line Competition Package. Upgraded seats, 19-inch wheels wrapped in performance summer tires, and a retuned suspension are among its chief upgrades. Gloss black trim, red brake calipers, a flat-bottomed steering wheel with paddle shifters, and a fixed rear spoiler round out the purely aesthetic touches.
CarsDirect Tip
The 2021 Audi TT is more for the boulevard than the racetrack, so we'd skip over the spicy S Line package; red brake calipers and a big black spoiler don't work very well on something that's only slightly faster than the average family car. We would recommend splurging on the convertible, though. What's Sunday cruising without a top to put down?