BMW is deep in an electrification revolution that includes the iX3, iNEXT, and the recently announced i4. The upcoming 2021 BMW i4 will build upon the brand's successful 4-Series lineup with a wildly powerful motor, great range, and more. Here's what we expect to see when the new i4 arrives.
BMW's camouflaged shots of the 2020 i4 and the initial details reveal this electrified sedan will be based on the current 4-Series Grand Coupe. This will give it the sporty, coupe-like C-pillars and rear glass with the usefulness of four doors. We expect some styling cues specific to this electric-only model, but there is no confirmation of this yet.
BMW has yet to reveal any details about the i4's interior, but we don't expect it to stray too far from its source material, the 4-Series Coupe. We expect it to come standard with at least the same 8.8-inch infotainment screen, leatherette upholstery, keyless ignition, Bluetooth connectivity, navigation, and more. There are sure to be exclusive gauges and functions in the infotainment system to meet the eco-driving needs of this EV sedan. We also expect slight color-scheme variations compared to the standard 4-Series.
Powering the 2021 BMW i4 will be an electric motor that will deliver 530 horsepower, giving the i4 105 hp more than the M4. Combine this with instantly available low-end torque, and the i4 will hit 100 km/h (62 mph) in around four seconds. This would likely dip its 0-to-60 time just under the four-second mark, and its top speed will ring in above 200 km/h (124 mph). For reference, the i4's gasoline-fueled M sibling sprints to 60 mph in 3.9 seconds and tops out at 156 mph in its base setup.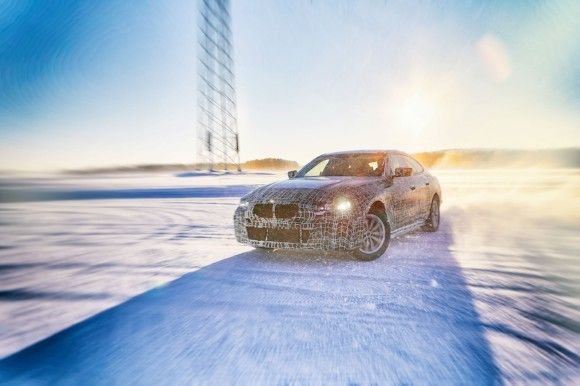 Performance isn't all the i4 will offer, as it will also deliver up to a 600-km (373-mile) range on a full charge, according to BMW. We expect this number to tumble closer to the 300-mile range in the more stringent EPA testing. When hooked up to a 150-kW charger, the i4 will charge up to 80% in just 35 minutes, but BMW has not released how long it'll take to get a full charge.
BMW revealed nothing about the i4's safety features, but its donor car comes standard with automatic emergency braking. Other features like blind-spot monitors, adaptive cruise, and lane-keep assist are all options. The IIHS has not tested the 4-Series for safety, but its 3-Series brother is a Top Safety Pick+ with its optional LED projector headlights. We expect similar ratings from the i4, and it may even come standard with a lot of the 4-Series' optional safety features.