BMW has already announced its first-ever all-electric midsize sedan, the i4, will arrive soon. Today, the German automaker has given us the first glimpse at this new model with the i4 Concept.
Up front, the 2021 i4 Concept shows off a blend of BMW heritage and a move forward in the brand's styling. It all starts with the taller closed-off kidney grille outlined by a blue-accented surround and flanked by thin LED headlights that boast the brand's iconic four-light signature. It also shows off a revised BMW Roundel. Down the sides, the i4 Concept boasts smooth sheet metal, short overhangs, and BMW's iconic four-door coupe roofline. The backside features thin taillights with an LED wave, while a sharp diffuser boasts blue accents where the tailpipes would typically be.
In the production model, we expect many of the dramatic design cues to be toned down a lot. We expect the production i4 to be much closer to today's 4-Series with a handful of design takeaways from this concept.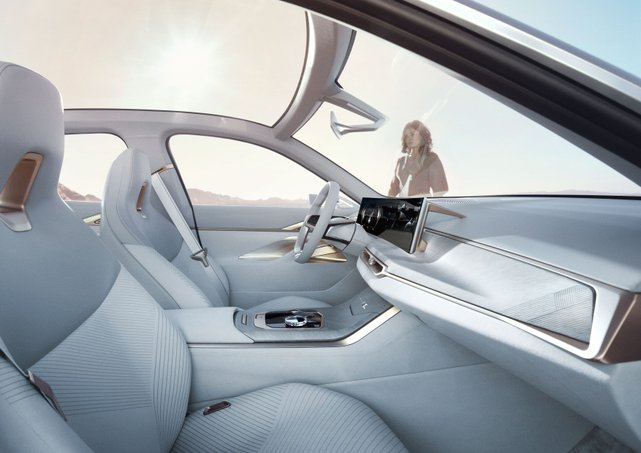 Inside, the i4 Concept puts its modern looks on display with a driver-centric design that boasts a massive curved screen that's cantered toward the driver. The center console is simple and tidy with only a handful of buttons and knobs to perform key functions, and a toggle-type shifter. Showing its sustainability, the i4 Concept boats microfiber-and-leather-trimmed seats. Controlling the entire cabin experience are three Experience Modes – Core, Sport, and Eco – that tune the look and feel of the cabin to your style of driving. There is also a sound synthesizer that ranges from timid in Core mode to wild in Sport mode.
This cabin is clearly a concept-only design, but we expect bits like the curved screen and center console interface to carry into the production model's more consumer-friendly cabin.
Powering the 2021 i4 Concept is an electric motor that delivers 530 horsepower, which will help the i4 deliver a sub-four-second 0-60 time and a top speed in excess of 124 mph. While power is great, the true focus of any EV is its driving range. Thanks to its 80-kilowatt-hour battery, the i4 concept will deliver up to 270 miles of range on a charge. Given today's EV technology, this powertrain sounds nearly production-ready.
There is no information on the i4 Concept's safety gear, but we expect such an advanced sedan to boast the latest in safety tech. It may even feature some basic self-driving capabilities.