Update: BMW decided not to release the iX3 in the U.S. While it will be available in overseas markets, shoppers here in America will likely have to wait for the Spring 2022 release of the fully electric BMW iX.
BMW is in the midst of an electrification revolution with the announcement of the iX3 concept, the i4, and the iNEXT. The i4 has already had many of its details emerge, but there is still little known about the iX3. Here's what we expect to see when this all-electric crossover debuts.
On the outside, we expect the iX3 to carry over most of the design directly from the current X3, giving it that distinct BMW crossover look. That said, we expect BMW to put some distinguishing elements between this all-electric model and its gasoline-fueled sibling, and this is where the BMW i Blue will work its magic. As seen in the iX3 Concept, look for the production model to arrive with plenty of i Blue accents, including on the grille, the side skirts, the rear apron, and more. We also expect to see a revised grille for optimized aerodynamics.
The details are equally scarce about what's doing inside the 2021 iX3, but we can again look at the current X3 for some ideas. While we expect to see some of the same blue accents inside the iX3's cabin, you'll likely see much of the current X3's design cues on display, including the dash-top touchscreen, clean instrument panel design, digital gauges, and more. As with any electric vehicle, the gauges will likely have EV-focused readouts and the infotainment system to have a few extra pages dedicated to optimizing efficiency.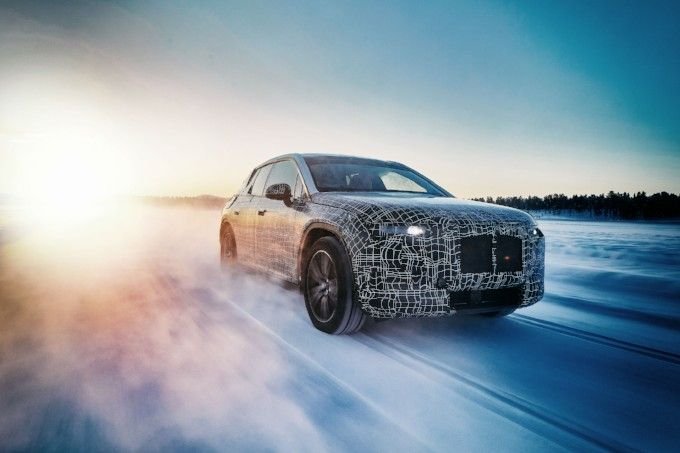 What will power the iX3 remains a mystery, but the unveiling of the i4 gives us an idea of BMW's direction with its new i lineup. The i4 will have performance numbers that meet or beat the mighty M4, leading us to expect similar numbers from the iX3. It may even share the i4's 530-horsepower electric motor, which would allow it to rival the X3 M's 4.1-second 0-to-60 mph time. Even if BMW chooses to tone things down a bit for this more family-oriented crossover, we still expect great performance numbers.
As with any advanced electric vehicle, we expect only top-notch safety equipment in the BMW iX3. While there is no official word on what advanced safety gear will come standard, we expect it to at least match the current X3's optional automatic emergency braking system, which helped earn it a Top Safety Pick+ rating. In such an advanced vehicle, though, we may see this and other tech, including lane-keep assist, blind-spot monitoring, adaptive cruise, and more, to come standard.
The BMW iX3 will battle the Tesla Model X, Jaguar I-Pace, and the Audi e-tron.
Pictured: 2021 iX3