BMW released a new range-topping SUV in 2019 dubbed the X7. This massive people hauler received a new range-topping M50i trim and some new features in 2020. In 2021, we expect it to mostly be a carryover model, save for the new performance-focused Alpina XB7 variant.
The BMW X7 rolled into showrooms in 2019 with all the key Bimmer characteristics, including a bold grille, sharp body lines, and a class-meets-sportiness body, but it was all attached to a more upright-looking SUV that others in the automaker's lineup. It also stands out among other Bimmer SUVs with its to-the-grill headlights, which the automaker eliminated in all other new-generation SUVs. We expect this look, even the somewhat dated headlights, to remain the same in the 2021 X7. The Alpina model will boast the same look but with Alpina badging to set it apart.
Inside, we expect the 2021 X7 to continue with its three-row, decked-out cabin that includes the latest BMW design cues like the dash-top infotainment screen, angular center stack, thick center console, and more. Setting the X7 apart from other SUVs in BMW's lineup will be bolder color combinations and unique-looking trim options. The new Alpina XB7 will add a few extra touches like a blue-lighted crystal gear shift knob, Alpina badging, upgraded materials, and unique trim options.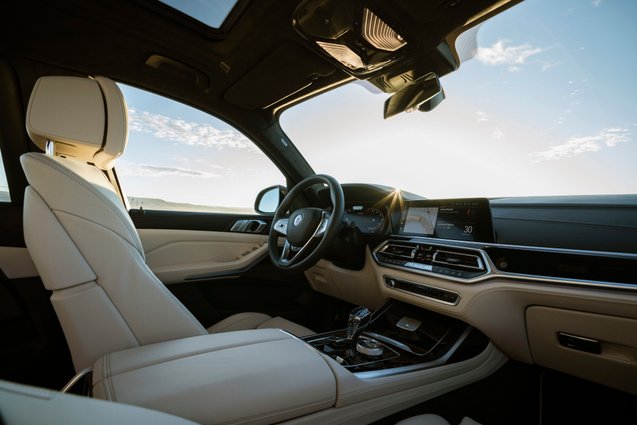 We expect the under-hood bits in the 2021 BMW X7 to remain the same, starting with the xDrive40i's base 3.0-liter turbocharged six-cylinder that cranks out 335 horsepower. The xDrive50i model's 4.4-liter turbocharged V8 will pipe in 456 hp, while the M50i's V8 will deliver 523 hp. Topping the range will be the new-for-2021 Alpina XB7 and its reworked 4.4-liter V8 that'll pump out 612 hp. All 2021 X7 models will continue to come standard with an eight-speed automatic transmission and all-wheel drive.
There are no official crash-test scores for the BMW X7, nor do we expect them. What we know is the current X7 includes standard automatic emergency braking, blind-spot
This three-row luxury crossover will compete with the Audi Q7, Cadillac Escalade, and Mercedes GLS-Class.
Check prices for the 2021 BMW X7 »
Pictured: 2021 BMW X7