The Buick Encore is getting up there in age, as it went through its last redesign way back in 2013. Buick kept it fresh with mild front- and rear-end updates in 2017, and the Encore's remained the same since. We expect this carryover trend to continue when the 2021 Buick Encore hits showrooms.
On the outside, the Encore's 2017 refresh brought in thinner headlights, a revamped grille, and restyled LED taillights, giving this small crossover a fresh look that further distinguished it from its Chevy Trax source material. This look is still relatively fresh, especially in the slow-to-change subcompact crossover class, so we expect no changes to the 2020 Encore.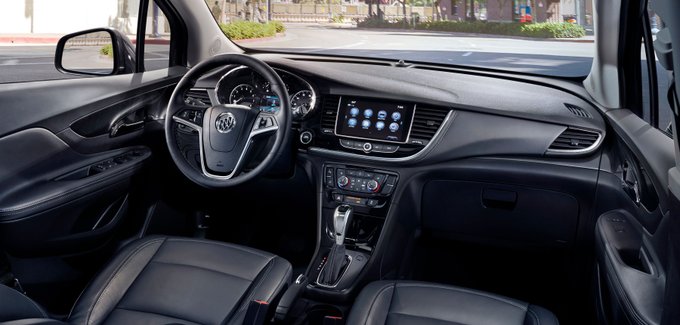 Inside, the Buick Encore is tight on space, especially in its rear seats, but it still does a good job hitting all the key Buick points. These include a clean design, a collection of sound-deadening upgrades to keep outside noises where they belong, and plenty of luxury in its higher trims. We expect the 2021 Buick Encore to hit showrooms with the same design and features, including its standard Apple CarPlay and Android Auto.
In 2020, Buick dropped the Encore's more powerful engine option, leaving it with only one choice, a 1.4-liter turbocharged four-cylinder with 153 horsepower. This engine pairs with a six-speed automatic transmission and front- or all-wheel drive. We expect this powertrain to roll into the 2021 Encore lineup unchanged.
Safety is where the Encore shows its age, as it lacks even optional automatic emergency braking, which immediately eliminated it from consideration for an IIHS Top Safety Pick award. It also received just an "Acceptable" rating in the passenger-side small-overlap test. In all other IIHS crash tests, it received "Good" ratings. Buyers can opt for forward-collision warning and blind-spot monitors. We expect no changes to the safety ratings and equipment when the 2021 Encore arrives.
This subcompact sub-luxury crossover will compete with the Audi Q3, BMW X1, and Hyundai Tucson.
Check prices for the 2021 Buick Encore »
Pictured: 2019 Buick Encore