In 2020, the Chevy did what few ever expected it to do with the Corvette; it moved the engine behind the seats, giving it a mid-engine format and supercar-like body proportions. With this look still fresh and plenty of inventory issues holding it back in its first model year, we expect the 2021 Corvette to be a carryover model.
The new-generation Corvette dominated headlines with its mid-mounted engine, which pushed the cabin forward, shortened the hood, and gave the back end supercar like looks. This look may have lost it a few fans from the traditionalist side, but it led to a whole new generation of fans who'd been looking for something different from the premium sports car segment. We expect this design to carry on with no changes – other than maybe a few new colors – in the 2021 Corvette.
Inside, the new-generation Corvette took a huge step forward with its cockpit-like design, high-rising divider, and a plethora of the latest tech. The latter included a standard 12-inch digital instrument cluster, 4G LTE Wi-Fi, a 10-speaker Bose audio system, an 8-inch touchscreen, Apple CarPlay, Android Auto, and more. Buyers could also opt for a 14-speaker audio system, heated and cooled seats, a head-up display, a wireless phone charger, and more. We expect the looks and features to remain the same inside the 2021 'Vette.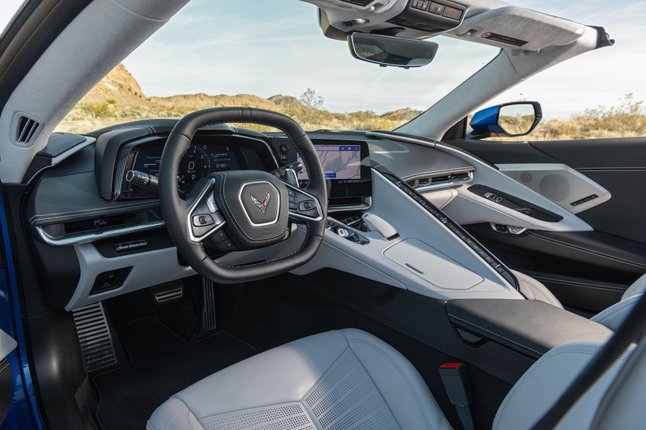 Under its rear hood, the 2020 Corvette came standard with a 6.2-liter V8 engine that pumped out 490 horsepower and 465 pound-feet of torque. This power headed through a standard eight-speed dual-clutch transmission and out to the rear wheels for a three-second 0-60 time. Moving to the Z51 package added 5 hp, 5 lb-ft of torque, and stickier tires, which shaved 0.1 seconds off the sprint time. We expect this base engine to remain the same in the 2021 Corvette, but there are reports of a 600-plus-horsepower Z06 model with a 5.5-liter flat-plane-crank V8 behind the seats arriving sometime in the 2021 or 2022 model year.
Of course, the 2020 Corvette lacks safety ratings, as the NHTSA and the IIHS haven't tossed it into any walls. What we know is it lacks many of the key advanced safety features standard on vehicles a fraction of its cost, including forward-collision warning and automatic emergency braking. Buyers could, however, opt for front and rear cameras, rear cross-traffic alert, and blind-spot monitors. We expect the lack of safety ratings and advanced safety features to remain in the 2021 Corvette.
This mid-engine sports car will battle the Jaguar F-Type, Audi R8, and Porsche 911.
Check prices for the 2021 Chevrolet Corvette »
Pictured: 2020 Chevrolet Corvette