The 2020 Ford Explorer ushered in a whole new generation for this midsize crossover, moving it away from the front-driven pavement pounder it was into a rear-driven rig with more off-road prowess without losing its on-pavement comfort. With its redesign entering just its second year, we expect no big changes to the 2021 Explorer.
On the outside, the new-generation Explorer boasts an all-new exterior that takes on a more rugged look than the previous model. Despite moving a few notches closer to a truck-based SUV, this design stops short of crossing the truck-like line, keeping it in line with what crossover shoppers want while mixing in some of what SUV buyers want. It even has a little something for the performance lover with the sportier-looking ST trim. With this design receiving such great reviews and being only a year old, we expect the 2021 Explorer's body to be virtually identical.
Inside, this new-generation crossover softens things up with a more car-like design that includes a sleek and swooping instrument panel, a clean center stack, and a few large infotainment touchscreens, including a massive 10-inch optional screen. The new Explorer's interior has also received a warm welcome, so we expect no significant style changes in here for the 2021 Explorer lineup.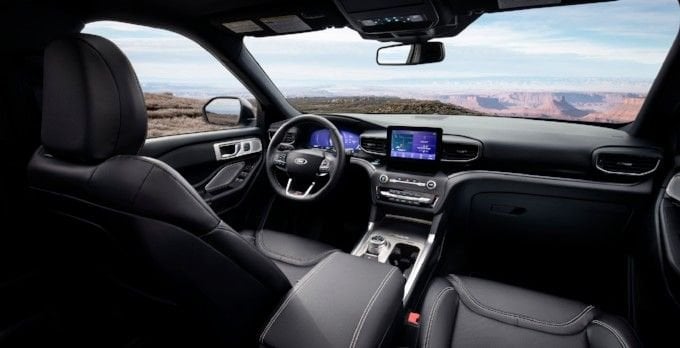 Under the new-generation Explorer's hood is a standard turbocharged 2.3-liter four-cylinder engine that produces 300 horsepower and 310 pound-feet of torque. Move into the Limited Hybrid trim, and you get a 3.3-liter V6 and a setup of electric motors that combine for 318 hp and 322 lb-ft. Performance shoppers will prefer the ST trim's 3.0-liter turbocharged V6 with 400 hp and 415 lb-ft of torque. We expect all these engines to remain the same in the 2021 Explorer.
There have been no crash tests performed on the 2020 Ford Explorer yet, but they will come. What we do know is this new-gen crossover comes standard with Co-Pilot360, which includes blind-spot monitors with cross-traffic alerts, hill-start assist, and automatic emergency braking with pedestrian detection. Buyers can move up to the Co-Pilot360 Assist+ package and get more equipment, including adaptive cruise control and traffic-sign recognition.