In 2015, the Ford Mustang entered a new generation, but it continued with the retro inspiration it's had for many years. Since this redesign, the Ford Mustang has been through some mechanical and technical updates, but it's remained visually unchanged. We expect this look to stay the same when the 2021 Mustang hits showrooms.
When it arrived in 2015, the Ford Mustang gained a swoopier look that included a downturned nose, sleek headlights, a slick roofline, and a forward-leaning rear fascia. Though this look is showing age, it competes in a class where changes don't come often, so we expect the 2021 Mustang to roll in with the same design.
Inside, the Mustang has a simple retro design with its three-post steering wheel, stubby gear shifter, center-stack toggle switches, circular air vents, and more. This interior could use some updates, especially the more plastic-heavy lower trims, but we expect it to remain the same in the 2021 model year.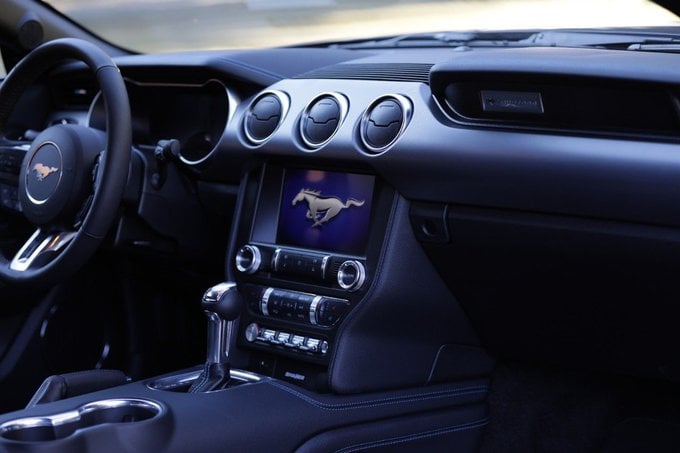 Buyers seeking a new look may not have to wait too long, as we could see a redesigned Mustang in 2022 or 2023.
The current Ford Mustang has a slew of powertrain options, and they are anticipated to remain the same for the 2021 model. This powertrain lineup starts with a 2.3-liter turbocharged four-cylinder engine that produces 310 horsepower and 350 pound-feet of torque – the power jumps to 330 hp with the 2.3 High-Performance Package.
The next engine is a 5.0-liter V8 that pounds out 460 hp and 420 lb-ft of torque. The Mustang Bullitt has the same V8 engine but with an extra 20 hp.
The Shelby GT350 trim uses a 5.2-liter flat-plane-crank V8 that pumps out 526 hp, while the Shelby GT500 adds a supercharger to the 5.2-liter engine, pushing its output to 760 hp.
The Bullitt and both Shelby models are available only with a six-speed manual transmission, while the rest of the lineup is available with a six-speed manual or a 10-speed automatic transmission.
The 2020 Ford Mustang fell short in the IIHS' small-overlap crash test with an "Acceptable" rating, and the IIHS has not yet tested its optional automatic emergency braking, leaving it out of the running for a Top Safety Pick rating. Other safety options include adaptive cruise control, automatic high-beam headlights, lane-keep assist, and rain-sensing windshield wipers.