The current Honda Fit debuted back in 2015. While the Fit isn't necessarily old, its segment has since passed it by, making it overdue for a redesign. Some markets worldwide have already received the redesigned Honda Fit, but there is some uncertainty as to whether the U.S. market will receive the redesigned 2021 Honda Fit or if it'll be a carryover model.
The current Honda Fit was state of the art when it arrived in 2015 with its sharp wedgelike design, prominent grille and headlights, scalloped doors, and forward-leaning rear hatch. It enhanced this look slightly through the years with bold color options and a touch of sportiness from the Fit Sport. If the U.S.-spec 2021 Fit gets the redesign other markets have received, it'll make a dramatic turn with relaxed body lines, less dramatic scallops, and a more rounded nose with larger headlights that feature U-shaped LED accents. Around back, the new-look Fit would have a more upright rear hatch, and taillights with graphics that match the headlights' U-shaped accent.
Inside, the current Honda Fit is tidy with its simple dash setup, limited buttons, large HVAC knobs, small touches of painted silver for a little contrast, and a large speedometer sitting behind Honda's signature steering wheel design. The current Fit's best attribute, though, is its flexible cargo area with a cavernous 52.7 cubic feet of space.
If the 2021 Fit brings the global redesign to the U.S., the cabin will boast a completely different look. It'll roll in with a "floating" dash to enhance front-seat roominess, a raised infotainment screen, an even cleaner center stack design with just three knobs, a unique two-spoke steering wheel, an available digital gauge cluster, and available contrasting color options, like white on black. The redesigned Fit also appears to retain its focus on cargo space with the same flexible cargo area as the current model, but Honda offers no details on its cargo capacity.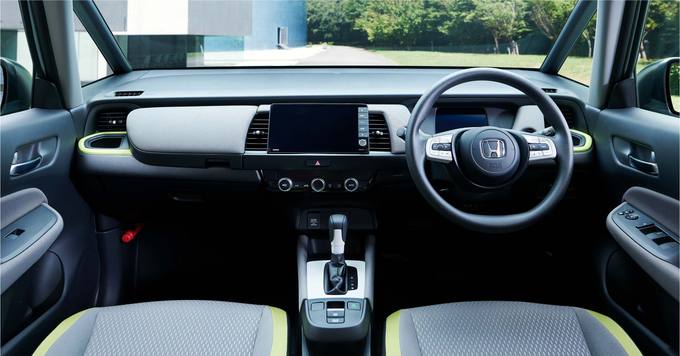 Under its hood, the 2020 Honda Fit comes standard with a 1.5-liter four-cylinder engine that produces 130 horsepower and 114 pound-feet of torque. A six-speed manual transmission is standard, but most Fits come with a continuously variable transmission. Power heads to the front wheels only.
If Honda releases the redesigned Fit in the U.S., there is some uncertainty to the engine it'll come with. In Japan, its standard engine has just 97-hp engine, but there's a hybrid variant that adds a 107-hp electric motor and optional all-wheel drive. It's doubtful these low-power setups would sell well in the U.S., so there's the possibility of a small-displacement turbocharged three- or four-cylinder engine or maybe just a retuned version of today's 1.5-liter engine.
In the safety department, the current Fit offers standard advanced safety tech like automatic emergency braking, road-departure mitigation, adaptive cruise control, lane-keep assist, forward-collision warning, and more standard on EX and EX-L trims. These features aren't available on the LX and Sport trims, though. If the 2021 Fit is a carryover, we expect this to remain the same. If it gets the global redesign, we could see these safety bits return as standard features.