While it may seem like it was just yesterday the Honda HR-V arrived and revolutionized the compact crossover segment with its relatively large cargo area and top-notch fuel economy. In reality, it will head into its sixth model year when the 2021 HR-V arrives. With it getting up there in age and compact crossovers going through a lot of change since its debut, we could see a redesign when the 2021 model hits showrooms.
There is no word on what a redesigned 2021 Honda HR-V would look like, but we don't expect a significant departure from its current design. Yes, Honda will modernize it, but we expect the same subcompact proportions. Because the current model is based on the Fit hatchback, we would generally look to the upcoming new-generation Fit for a clue, but there is some doubt the hatchback will make its way to the U.S. Plus, its looks are too funky for a volume-selling compact crossover. What we may see is the HR-V move toward more of a baby-CR-V look.
Inside, the HR-V has remained mostly the same since its 2016 debut, save for the physical volume knob added in 2019. The HR-V has long offered an option the masses can appreciate with its simple interior that is clean, functional, and relatively basic. This basic look, though, has become outdated, so we expect a significant upgrade if Honda redesigns the HR-V for 2021. Look for this to push it closer to the CR-V, which is still clean but boasts a little more excitement.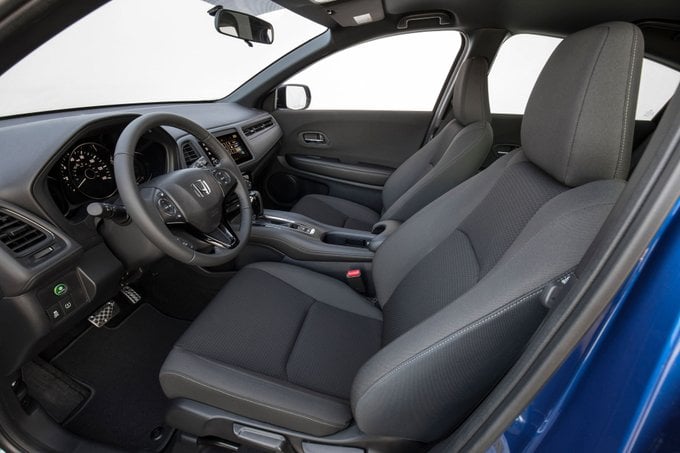 Under its hood, the current HR-V has just one engine option, a 1.8-liter four-cylinder with 141 horsepower and 127 pound-feet of torque. This four-pot unit pairs exclusively to a continuously variable transmission that delivers power to the front or all four wheels. In the 2021 HR-V, we could see an enhanced version of this engine come standard, but we may also see the turbocharged 1.5-liter four-cylinder move up from the Civic. This wouldn't create an HR-V Type R or Si, but it would give the HR-V the pop it needs to compete with more powerful models in its class. Plus, this boosted HR-V is already available in Europe, so it wouldn't be a stretch to bring it to the U.S.
Thanks to "Good" crash test ratings across the board, "Acceptable"-rated LED headlights on the Touring trim, and "Superior"-rated optional automatic emergency braking, the current HR-V is an IIHS Top Safety Pick. While this is great, the problem is the HR-V only offers standard automatic emergency braking in EX and higher trims, which also include adaptive cruise, active lane control, and more. Many competitors offer this critical safety feature standard, and we expect a redesigned 2021 HR-V to do the same.