After taking the 2015 and 2016 model years off, the Honda Ridgeline returned with an all-new look in 2017. Though the looks were new, the source material remained the Honda Pilot, as it was in the previous generation. With this truck still relatively fresh and unique in the midsize pickup space, we expect the 2021 Honda Ridgeline to get a mild refresh but remain mostly unchanged.
On the outside, we expect the 2021 Honda Ridgeline to carry on with the same base look it's had since 2017, which is basically a Honda Pilot with a bed. This design may not be sought after by truck enthusiasts, but it's a nice balance for someone who needs the occasional truck but doesn't like the brute appearance most pickups have. Though the base design will remain, we expect a few small tweaks to its soft parts. Honda hasn't confirmed this light refresh yet, but we expect to see updates to the bumpers and possibly the grille and headlights.
Inside, the 2020 Honda Ridgeline pleases families with its Pilot-sourced dash that's stylish, clean, easy to look at, and boasts a standard 8-inch touchscreen infotainment system. It also features 36.7 inches of rear leg room, giving most rear-seat passengers plenty of space. We expect this crossover-based cabin to remain the same in the 2021 Ridgeline.
On top of the 8-inch touchscreen, the 2020 Ridgeline's standard features include keyless ignition, Apple CarPlay, Android Auto, Bluetooth, and more. We expect this to remain the same in 2021 too.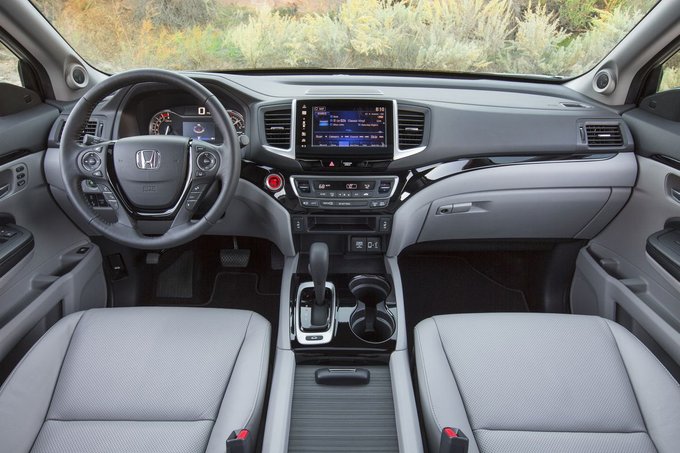 Powering the current Ridgeline is a 3.5-liter V6 engine that pumps out 280 horsepower and 262 pound-feet of torque paired with a nine-speed automatic transmission. The power heads to the front wheels as standard, but all-wheel drive is available. With all-wheel drive, the Ridgeline's towing capacity rings in at 5,000 pounds – about 2,000 pounds short of most others in its class. This powertrain will likely remain the same in the 2021 Ridgeline.
The current Honda Ridgeline is a rarity in the automotive space: a truck that's been through full safety tests. Thanks to "Good" crash test scores in all the IIHS' key areas and a "Superior"-rated standard automatic emergency braking system, the 2020 Ridgeline is an IIHS Top Safety Pick. That said, barring some structural work, the 2021 Ridgeline will not retain its Top Safety Pick rating. The newest IIHS criteria require a "Good" score in the passenger-side small-overlap test, and the 2020 Ridgeline earned only an "Acceptable" rating. Otherwise, we expect all other ratings and standard safety features to remain the same on the 2021 Ridgeline.