Hyundai gave the Ioniq Hybrid a mild refresh in 2020. With updated exterior and interior designs, more standard convenience features, and more standard safety features, we expect the 2021 Hyundai Ioniq Hybrid to be a carryover model for the new year.
In 2020, Hyundai updated Ioniq Hybrid with a refreshed exterior design. The hybrid hatchback benefited from a new grille with a honeycomb design, redesigned headlights, and updated fog lights. The changes clean up the model's design for a cleaner look. At the back, the Ioniq Hybrid received new taillights. We expect the 2020's design to remain the same for the 2021 model year.
Hyundai also refreshed the Ioniq Hybrid's interior design. The main change that occurred for 2020 was the introduction of a larger 8-inch touchscreen and a redesigned center console. Instead of being integrated into the center console, the touchscreen now sits atop and in front of the dashboard. The rest of the center console was updated to accommodate the change, with buttons and dials shuffling around. The instrument cluster and vents were updated, as well. With a refresh so close to the 2021 model year, the Ioniq Hybrid's interior design should be identical to the current model's.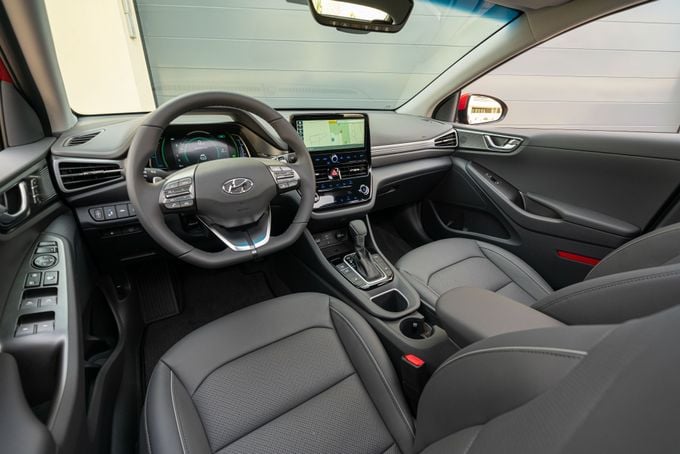 Under the hood, things should remain the same as they are now for the 2021 Ioniq Hybrid. That means a 1.6-liter four-cylinder engine and a 32-kW electric motor will be the only available powertrain. Combined output for the system will be rated at 139 horsepower and 195 pound-feet of torque. The engine comes with a six-speed dual-clutch automatic transmission with power going to the front wheels. Without any changes, we expect the same EPA estimates of 57 mpg in the city, 59 mpg on the highway, and 58 mpg combined to go unchanged.
Safety wise, the Ioniq Hybrid received more standard safety features in 2020. The 2021 model will come with automatic emergency braking, lane-keeping assist, forward collision warning, automatic high beams, and driver attention warning as standard. The SE trim will add blind spot monitoring and rear-cross traffic alert. Adaptive cruise control and pedestrian detection become standard on the SEL trim. The range-topping Limited adds Hyundai's Highway Driver Assist system along with front and rear parking sensors.