The Hyundai Kona hasn't been fully redesigned since the first-gen subcompact SUV was launched in 2018. Since then, the Kona has received new features and renamed trim levels. With a design that still looks fresh and all of the latest modern features, we are expecting a carryover model for 2021, though a mild refresh is possible.
2018 saw Hyundai introduce the Kona as an all-new model. The Kona featured a design that was unlike anything else on the market. Slim LED daytime running lights sit high up on the front end where traditional headlights are usually placed. The lower lights are the actual headlights. Pair the odd placement of the highlights with the massive grille and the result is one of the more distinct looks on the market. The rest of the Kona is tame with slim taillights, rugged body cladding, and tidy subcompact proportions. We expect a lot of the same look to remain when the 2021 Kona arrives.
On the inside, the Kona's design is a lot more subdued. Large dials, a simple layout for the center console, and a touchscreen that sits atop the dashboard all give the Kona a similar design that you'll find with many other subcompact SUVs. While the Kona features a fair amount of plastics, they're well designed and blend directly into some of the SUV's more upscale finishes. We don't expect the interior design to change much for the 2021 Kona.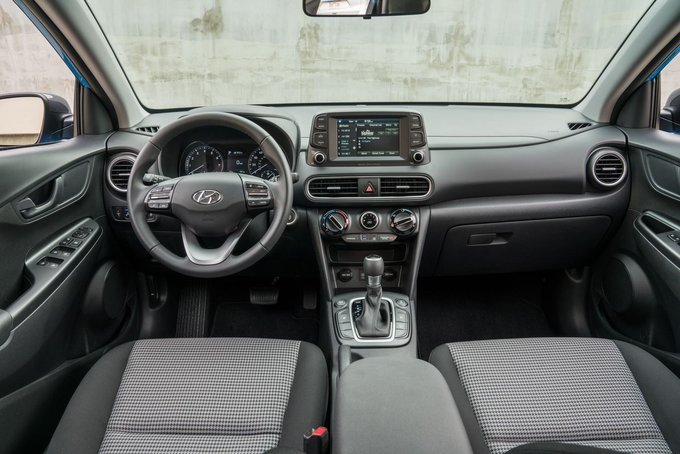 Under the hood, we expect the 2021 Kona to feature the same available engines as the current model. The base engine in the Kona is a 2.0-liter four-cylinder that produces 147 horsepower and 132 pound-feet of torque. A six-speed automatic is standard for the base motor. The next step up is a turbocharged 1.6-liter four-cylinder engine that's rated at 175 hp and 195 lb-ft of torque. The turbocharged engine is paired with a seven-speed dual-clutch automatic transmission. Front-wheel drive is standard with both engines, while all-wheel drive is available.
We expect the 2021 Kona to come with the same features as the current model. Forward collision warning, a driver attention monitor, and lane keep assist will be included with every model. Buyers can also opt for blind spot monitoring, pedestrian detection, rear parking sensors, automatic high-beam headlights, and rear cross-traffic alert. Adaptive cruise control is only available on the Ultimate trim.
The subcompact SUV competes with the Honda HR-V, Mazda CX-30, Nissan Kicks, and Kia Soul.
Check prices for the 2021 Hyundai Kona »
Pictured: 2020 Hyundai Kona