Hyundai introduced the all-new Kona Electric in 2019 – a year after the non-electric Kona was introduced. Minor changes came for the 2020 Kona Electric last year with the introduction of a larger optional infotainment screen and a new battery warmer feature for Limited and Ultimate trims. With the Kona Electric just entering its second model year, we expect a carryover model for 2021.
In 2019, the all-new Kona Electric appeared with a similar design to the models with an internal combustion engine. The all-electric crossover has a few unique exterior elements that include a grille-less front end, a modest trim piece that connects the LED daytime running lights, and a centralized front air intake. It's a clean design that also incorporates a few funky elements. The aerodynamic wheels, clean rear bumper design without any exhaust outlets, and "electric" badges help the Kona Electric look like an EV. The 2021 Kona Electric will maintain a lot of the same design as the current electric crossover.
The interior of the current Kona Electric isn't as radical as the exterior, but it does have upscale materials and some distinct design elements. The simple instrument cluster puts range, speed, and fuel economy front and center for drivers. The center console has push-button controls for the transmission and puts some buttons for convenience features closer to the driver. Since the Kona was designed from the onset to be an electric vehicle, the Kona Electric doesn't compromise rear-seat legroom or cargo capacity to accommodate the battery pack. The 2021 Kona Electric will have a similar interior design as the current vehicle.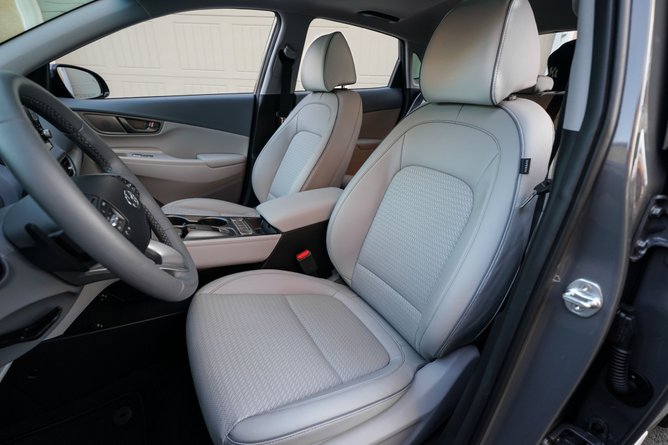 All 2021 Kona Electric models will continue to come with a 64-kWh lithium-ion battery pack and an electric motor. Combined output for the system is rated at 201 horsepower and 291 pound-feet of torque. Range for the vehicle is rated at 258 miles. Front-wheel drive and a single-speed transaxle are standard for the model.
Forward collision warning, lane keeping assist, blind spot monitoring, driver attention warning, and rear cross-traffic alert will continue to be standard on every 2021 Kona Electric. The Limited trim adds automatic high beams as standard. Going with the Ultimate nets rear parking sensors, adaptive cruise control, and pedestrian detection.