The second-generation INFINITI QX80 arrived in 2010, and it received a thorough refresh in 2018 that made its awkward-looking front end far more palatable. Other than some feature shuffling and updated trim levels, the QX80 has remained mostly unchanged since. With this beastly SUV not fond of changes, we expect the 2021 QX80 to roll in as a carryover model.
The current INFINITI QX80 boasts small bits of the signature looks the automaker has become known for, including dramatic creases and body lines, a bulging grille, slick character lines, and wide lighting. But the QX80 goes in a different direction once you hit the A-pillars, as it takes on a dramatic upright stance of a traditional SUV. We expect this design to remain the same when the 2021 QX80 arrives.
Inside, the QX80 takes a big step backward with its blast-from-the-past interior. This cabin received a refresh in 2018, but it's still based on a design from eight years prior, and it shows. This is especially true when compared to INFINITI's smaller models, the QX50, Q60, and Q50. This dated look includes a single touchscreen, a large silver center stack bezel, an old-school four-spoke steering wheel, and more. Unfortunately, we expect this look to remain the same in the 2021 QX80.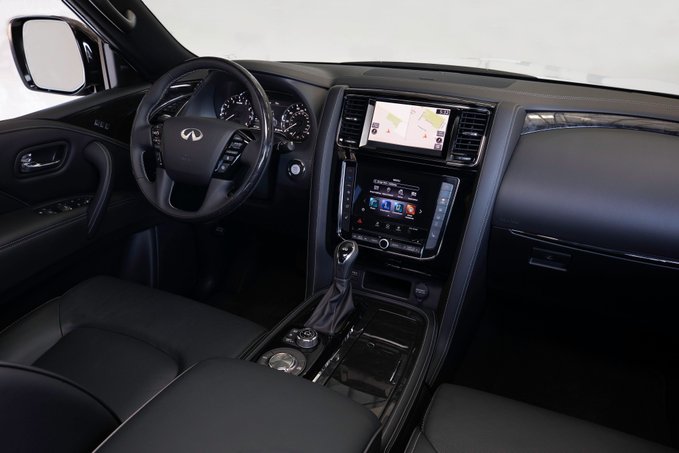 Under its hood, the QX80 boasts classic power in the form of a 5.7-liter V8 that pounds out 400 horsepower and 413 pound-feet of torque. This engine pairs with a seven-speed automatic transmission, and the power heads to the front or all four wheels.
In the safety department, the current QX80 comes standard with automatic emergency braking, rear door alert, lane departure warning, reverse automatic emergency braking, and blind-spot monitoring. The IIHS hasn't tossed this big boy into any concrete walls, so there are no official crash test scores. We expect the standard safety features and its lack of crash tests to continue unchanged in the 2021 QX80.