The Jeep Gladiator pickup has been a rumor for some time now, but in 2020, Jeep finally launched this truck-shaped Wrangler to tons of fanfare. With everything still so fresh, we expect the 2021 version of this midsize pickup to be a carryover model.
There's no reason to make any changes after just a year on the market, so the 2021 Jeep Gladiator will continue with the same looks it has today. These looks include a Wrangler front end and all its signature bits, like the grille and round headlights, paired to a truck bed. Being based on the Wrangler, the current Gladiator also boasts the high ride height, removable doors, and a removable top.
The same goes on the inside, as the 2021 Jeep Gladiator continues with the same Wrangler-based cabin. Since it's based on the iconic Jeep SUV, the Gladiator's cabin ranges from very simple with cloth seats, a 5-inch touchscreen, and other basics to a fully loaded model with leather seating, an eight-speaker audio system, an 8.4-inch touchscreen, a removable Bluetooth speaker, and more.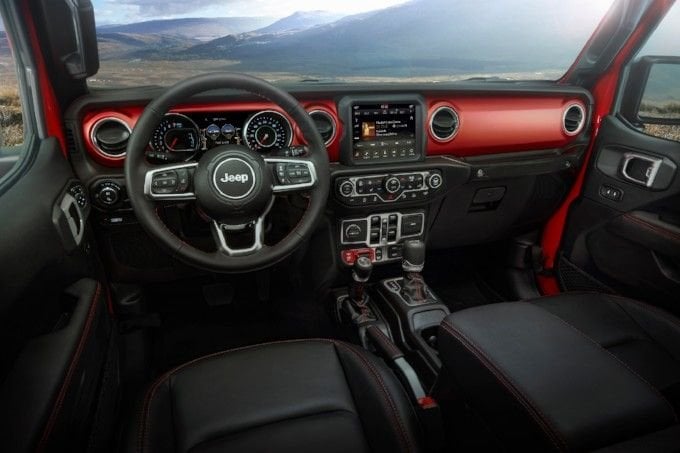 We also expect nothing new in the base engine, which would mean the 2021 Gladiator's standard powerplant would be the same 3.8-liter V6 engine that cranks out 285 horsepower and 260 pound-feet of torque. This engine will pair with a standard six-speed manual transmission – one of the few in the class – or an optional eight-speed automatic. Four-wheel drive will, of course, come standard. There will also be optional differentials, axles, and transfer cases for even more off-road abilities.
Jeep also says the Gladiator will get the Wrangler's 3.0-liter turbo-diesel V6 with 260 hp and 442 lb-ft of torque. The variant will reportedly arrive in 2020, although we don't know for sure whether it'll be introduced in the 2020 Gladiator or the 2021 model.
Like its Wrangler donor rig, the Gladiator comes with only basic standard safety equipment. Buyers can add automatic emergency braking, parking sensors, blind-spot monitors, and more via a pair of packages, but it remains behind the times by leaving them off the standard features list. There are no IIHS tests for the Gladiator yet, so stay tuned for updates. We expect all the standard and optional safety equipment to remain the same in the 2021 model.
Pricing ranges from $35,040 to $45,370 (including destination).
This midsize pickup will battle the Chevy Colorado, GMC Canyon, Ford Ranger, and Toyota Tacoma.
Check prices for the 2021 Jeep Gladiator »
Pictured: 2020 Gladiator