Jeep has done little to keep the Renegade fresh since the introduction of the second-gen model in 2015. While things will mostly remain the same for the 2021 Renegade, the rugged subcompact SUV is expected to get a new powertrain for the model year.
Visually, the Renegade will retain the current SUV's overall design, which is boxier and more rugged than other subcompact options in the segment. Just like the current Renegade, the 2021 model will feature Jeep's iconic seven-slot grille, sturdy body cladding, and prominently round headlights at the front. Wide fenders and a boxy silhouette will be found along the side of the SUV. We expect next year's Renegade to have the same simple styling as the current SUV at the back with square taillights and a prominent rear bumper.
Inside, the 2021 Renegade will feature the same design as the current model. Despite featuring a large number of plastics and massive roof pillars that create significant blind spots, the current Renegade's interior is appealing. Jeep incorporated funky design elements with a few surprises, like maps that are imprinted into the cupholders, that help the cabin still feel fresh. On the tech side, we expect the same 5-inch standard touchscreen to carry over, while 7- or 8.4-inch touchscreens will continue to be available. Android Auto, Apple CarPlay, and satellite radio are available with the Renegade's optional touchscreens.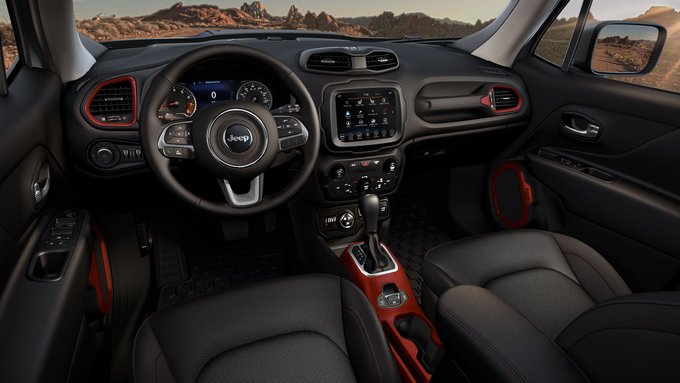 While other subcompact SUVs are offered in sporty trims, Jeep will continue to offer the 2021 Renegade in the off-roading oriented Trailhawk trim. It comes with all-terrain tires, skid plates, a higher ride height, and tow hooks, which give the SUV a much durable look.
Under the hood, the 2021 Renegade will share a lot of the same powertrains as the current SUV. A 2.4-liter four-cylinder engine that's rated at 180 horsepower and 175 pound-feet of torque will be standard. A turbocharged 1.3-liter four-cylinder that makes 177 hp and 210 lb-ft of torque will be available. A nine-speed automatic transmission and front-wheel drive are standard, while four-wheel drive is also available.
A new plug-in hybrid powertrain is expected to be introduced for the 2021 model year. Based on other Renegade models Jeep sells globally, we expect the plug-in hybrid powertrain to be based on the turbocharged 1.3-liter four-cylinder engine that's paired with an electric motor. Output should be rated at approximately 240 hp.
The only standard safety feature the current Renegade comes with is a rearview camera and we don't expect any major changes for the 2021 model. Jeep will continue to offer a variety of safety features, including blind spot monitoring, lane departure warning, rear cross traffic alert, forward collision warning, lane keep assist, adaptive cruise control, automatic emergency braking, as well as parallel and perpendicular park assist, as options.