The 2021 Kia Stinger will return with small but significant updates. The exterior will see a few tweaks, but they will likely be limited to headlights and fascia. More interesting is an upgrade to the optional 3.3-liter V6, and possibly the base engine as well.
To be the BMW-slayer it so wants to be, the Stinger needs to look the part. We're already fans of the current Stinger — sharp lines and a trendy fastback roof are both attractive and practical. The 2021 updates will likely be minor, but Kia has been on a roll with design lately. We're optimistic.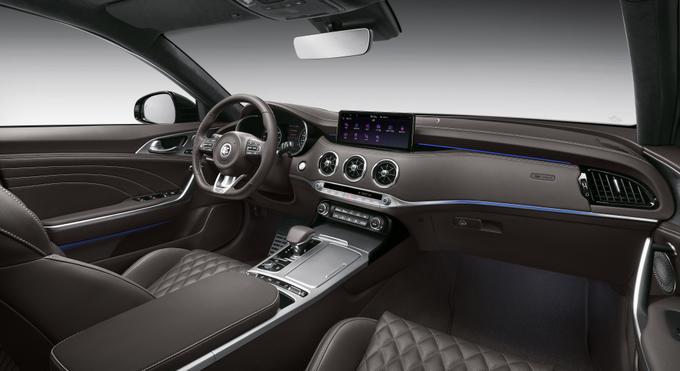 Last year's Stinger paired a 2.0-liter turbo four-cylinder engine with an eight-speed automatic transmission. Although it hasn't been confirmed, it's possible that the new Stinger will pull an engine from the Kia Optima and Genesis G80, a turbo 2.5-cylinder engine with 285 horsepower. That would be a gain of 30 horsepower and a significant upgrade.
Even better news for enthusiasts: the optional 3.3-liter turbo V6 will return with 380 hp and 390 lb-ft of torque, a gain of about 15 in both categories. We enjoyed the V6 in its last incarnation, and the new one ought to be even better. The new Stinger has been spotted with a new dual exhaust system, and this engine is likely responsible.
Rumors have circulated of a possible electric powertrain, but we have no evidence to suggest that an EV will arrive soon.
We've been surprised by Kia's stinginess with safety tech on this car. Last year's model made tech like automatic emergency braking optional on the lower two trims. Kia makes those features standard on most of its consumer lineup, and we hope to see them more widely included for 2021. When equipped with that tech and LED headlights, last year's Stinger was good enough for an IIHS Top Safety Pick award.