The Lexus LC has impressed luxury coupe shoppers since 2018 with its sharp design and excellent performance, but there was a near-immediate call for a drop-top model when the coupe arrived. Today, Lexus has unveiled the LC Convertible, giving buyers some topless V8 fun.
On the outside, the Lexus LC will carry on with the same design it's had since arriving in 2018, but the 2021 model will gain the long-anticipated convertible variant. The Lexus LC Convertible will do a great job mimicking the coupe from front to back. Lexus even put special care into the top to retain as much of the coupe's sleek roofline as it could. It also made the four-layer top from materials that avoid showing any outlines of the frame for a smoother look.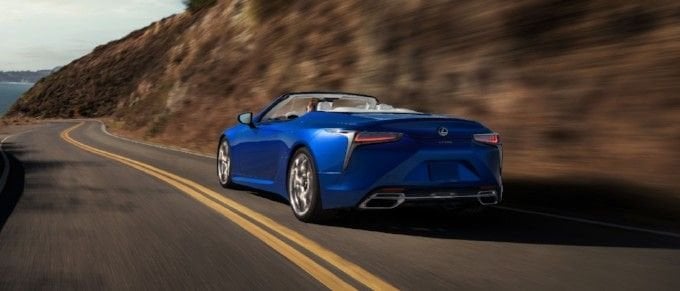 The top will be available in either black or beige. The driver can lower it at speeds up to 31 mph, and it will take 15 seconds to lower it and 16 to raise it.
Inside, the Lexus LC will retain the same great looks it's had since 2018, including the rising wall separating the driver and passenger side. Things will change in the tech department, though, as the LC will finally add Android Auto to its standard features. Exclusive to the convertible model will be neck heaters and an upper body heating function that keeps occupants warm with the top down in cooler weather.
Under its hood, the 2021 LC 500 will continue with its 5.0-liter V8 that will pound out 471 horsepower and 398 pound-feet of torque. This power will head through a 10-speed automatic transmission and out to the rear wheels. The convertible model required some work to make it handle as well as the coupe, including relocating and adding structural braces and retuning the suspension.
Lexus doesn't mention the hybrid LC 500h in its press release, but we expect this model to carry on with the same 3.5-liter V6 and electric motor that combine for 354 hp.
The 2021 Lexus LC has not been through IIHS testing yet, but it will continue with all the same safety tech the current model has. This will include standard automatic emergency braking with pedestrian detection, lane-keep assist, adaptive cruise control, blind-spot monitoring, and rear cross-traffic alert.