Introduced in 2016, the Mazda CX-3 was, at the time, the smallest vehicle in the automaker's lineup. Despite the introduction of the subcompact CX-30 last year, the tiny CX-3 remains the smallest SUV on sale from the brand. We expect the 2021 CX-3 to be a carryover vehicle and continue to act as the most affordable way to get into an SUV from the automaker.
Unlike other subcompact SUVs, the current CX-3 goes all-in on having an athletic design. The 2021 model should do the same. A familiar front-end design with a pentagonal grille with horizontal bars, a wide front air intake, and round headlights that lead directly into the grille give the CX-3 a premium look. Around the side, intricate wheel designs, relatively high fenders, and a curvy roofline make the CX-3 stand out for its athleticism. A bulbous design at the rear highlights the CX-3's width, while wrap-around taillights and two exhaust outlets are sporty elements.
From the inside, it's hard to tell that the current CX-3 is the most affordable SUV from Mazda. Simple in design with large dials for the HVAC system, circular vents, and a clean dashboard, the CX-3's interior comes off as upscale. The small knob and buttons used to control the infotainment system are located in a good area, just behind the shift knob, but the infotainment system that's perched on top of the dashboard isn't the easiest to use.
On the tech side, we the 2021 CX-3 will come with the same infotainment system that's found on the current model. That means a 7-inch touch screen with Android Auto, Apple CarPlay, Pandora, Bluetooth, and a USB will be standard.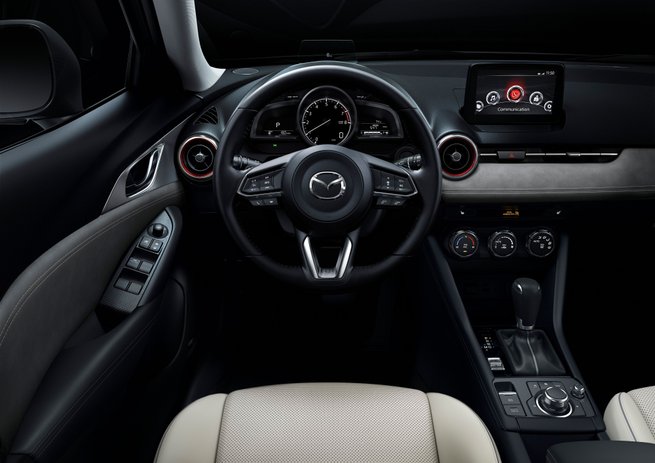 When it comes to performance, the upcoming CX-3 will continue to be powered by a 2.0-liter four-cylinder engine. The motor is rated at 148 horsepower and 146 pound-feet of torque. A six-speed automatic transmission and front-wheel drive are standard. All-wheel drive will be available.
Every CX-3 trim will come with forward collision warning, automatic emergency braking, rear cross-traffic alert, blind-spot monitoring, lane departure warning, and adaptive cruise control. Other standard features include a head-up display, automatic high beams, and adaptive headlights.
Starting price will remain the same at $21,740 (including destination).
This subcompact crossover competes with the Hyundai Kona, Kia Soul, and Nissan Kicks.
Check prices for the 2021 Mazda CX-3 »
Pictured: 2020 Mazda CX-3