The second-generation Mazda CX-9 debuted in 2016, ushering in the latest design language that's spread across the automaker's lineup. With this look still fresh, we expect the 2021 CX-9 to roll in as a carryover model.
Other than some light massaging, the Mazda CX-9 has remained mostly unchanged visually since its 2016 redesign. That redesign brought in a more premium look that included thinner headlights and taillights, a forward-leaning grille, a long hood, a sleeker roofline, a forward-leaning rear hatch, and much more. Though it's starting to age, the CX-9's look is still stylish and modern, so we expect it to remain unchanged in the 2021 model year.
Inside, the second-generation CX-9 brought in a more upscale cabin that included a dash-top infotainment screen, a low dash for better visibility, satin metallic trim, a split-opening center console, a cleanly set up center stack, and optional premium materials. This look and its options pushed the higher-trimmed CX-9 models into near-luxury territory. We expect this look and feel to remain the same in the 2021 CX-9.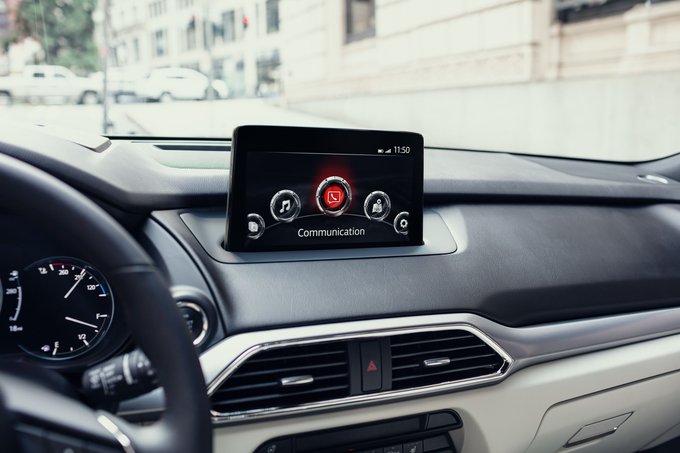 The current CX-9 boasts a turbocharged 2.5-liter four-cylinder engine that pumps out up to 250 horsepower and 310 pound-feet of torque. This power flows through a six-speed automatic transmission and out to the front or all four wheels. We expect this powertrain to remain the same in the 2021 CX-9.
Mazda has put a lot of resources into in-vehicle safety lately, and the current CX-9 puts this on full display with its IIHS Top Safety Pick+ rating. This rating is thanks to its "Good" crash test scores across the board, "Good"-rated standard LED headlights, and standard automatic emergency braking that received a "Superior" rating in vehicle-to-vehicle collision avoidance and "Advanced" in vehicle-to-pedestrian collision avoidance. Other standard safety gear on the current CX-9 includes active lane control, adaptive cruise control, blind-spot monitors, and rear cross-traffic alerts. We expect all the safety ratings and equipment to remain the same on the 2021 CX-9.
This three-row crossover will compete with the Chevy Traverse, Ford Explorer, and Subaru Ascent.
Check prices for the 2021 Mazda CX-9 »
Pictured: 2020 CX-9