In 2019, the fourth-generation Mazda3 launched with an all-new look, updated cabin, and even optional all-wheel drive. With this look still fresh, we expect the 2021 Mazda3 to be a carryover model.
The new-for-2019 Mazda3 rolled in an updated look gleaned from the automaker's popular crossovers. This new design included slitlike headlights and taillights, a long hood, short trunk, swooping body lines, and a forward-leaning grille. Since the fourth-generation model debuted, the Mazda3 has remained the same, and we expect it to roll on unchanged into 2021. Folks waiting on a refreshed Mazda3 could see one as early as the 2022 model year.
Inside, the fourth-generation Mazda3 continues to pull inspiration from its larger siblings with a low and thin dash for enhanced visibility, a dash-top infotainment screen, tasteful metallic trim, a three-spoke steering wheel, a clean center stack, and optional premium materials. We expect this design to continue unchanged in the 2021 Mazda3.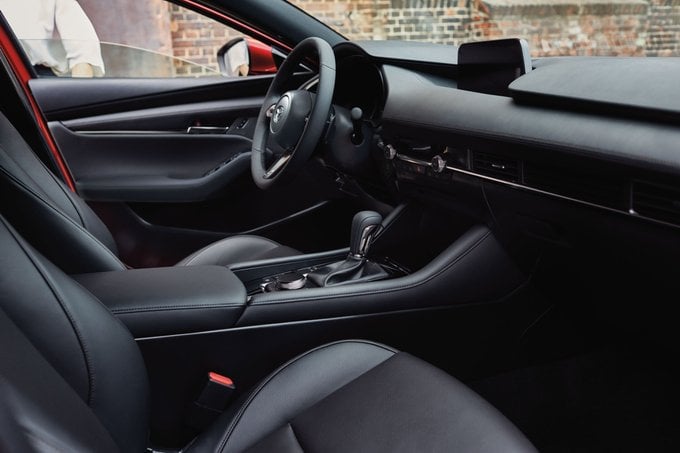 Under its hood, the current Mazda3 boasts a standard 186-horsepower 2.5-liter engine that pairs with a six-speed automatic transmission in most cases. There is an available six-speed manual transmission, but it's very limited and difficult to find at dealerships. In most Mazda3 models, the power heads to the front wheels, but optional all-wheel drive is available. We expect these powertrain options to remain unchanged in the 2021 Mazda3.
Mazda is working on a new SKYACTIV-X engine that combines the smooth drivability of a gasoline engine with the torque and fuel efficiency of a diesel. It remains unclear if this engine will be a part of the Mazda3 lineup in the states. Stay tuned for updates.
Safety remains a focal point for Mazda, as the current Mazda 3 is an IIHS Top Safety Pick+. This rating is thanks to "Good" crash test scores, "Superior"-rated standard automatic emergency braking with pedestrian detection, "Good"-rated optional curve-adaptive LED headlights, and "Acceptable"-rated standard LED headlights. Other standard safety tech on the current Mazda 3 includes adaptive cruise control, active lane control, blind-spot monitors, and rear cross-traffic alerts. We expect all safety ratings and equipment to remain the same for 2021.
This compact model will compete with the Toyota Corolla, Honda Civic, and Nissan Sentra.
Check prices for the 2021 Mazda Mazda3 »
Pictured: 2020 Mazda Mazda3