In 2016, the fourth-generation MX-5 Miata arrived with a dramatic new look. Since its debut, the new Miata has received some new features and special editions but has otherwise remained the same. We expect the 2021 Miata to continue its carryover trend.
When the fourth-generation Miata arrived in 2016, it ushered in a fresh look that included a sloped nose, striking slitlike headlights with matching taillights, and more dramatic body lines and fender arches. In later years, it also brought in the new retractable fastback body style. We expect the 2021 MX-5 Miata to continue with the same look. Buyers looking for a redesign may get one in the 2022 model year.
The Miata has always been relatively simple on the inside, and the fourth-generation model continues that trend. That said, the MX-5 Miata is up with the times with a dash-top infotainment screen, a three-knob HVAC interface, a two-tone dash with circular air vents, and optional leather upholstery. It even gained optional Apple CarPlay and Android Auto in 2020. We expect this simple but modern cabin to carry on unchanged in the 2021 MX-5 Miata.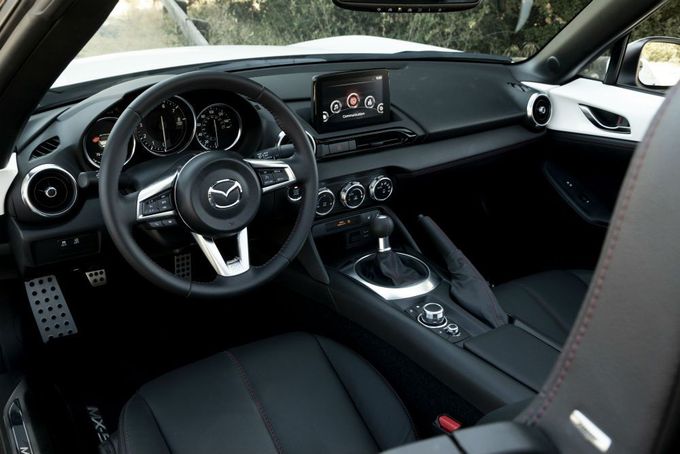 The MX-5 Miata is no speed demon with its standard 2.0-liter four-cylinder engine cranking out 181 horsepower, but it is plenty satisfying, especially with the standard six-speed manual transmission. Optionally, buyers can throw in a six-speed automatic. We expect this powertrain to continue unchanged in the 2021 MX-5 Miata.
The current Miata is also simple in the safety department, where its only standard features are low-speed automatic emergency braking and blind-spot monitors. For added safety, buyers can get adaptive headlights on the Grand Touring trim. Because it's a niche vehicle, the IIHS has not yet tested the current MX-5 Miata, nor do we expect it to. We expect its standard safety features and lack of safety ratings to remain unchanged in the 2021 MX-5 Miata.