The fourth-generation Mercedes-Benz C-Class arrived in 2015 with a new look and more upscale equipment as it moved from being the brand's entry-level model to a low-midrange vehicle. Since this shift, the C-Class has remained mostly the same other than some additional power and new tech. Though it's nearing a date with a redesign, we expect the 2021 C-Class to arrive with no notable changes.
As a carryover model, we expect the 2021 Mercedes-Benz C-Class to hit showrooms with the same stunning looks it gained in 2015. This design includes a more cab-rearward setup with a long hood and stubby trunk, sleek body lines, wind-shaped headlights, and multiple grille options. Folks who move up to one of the AMG models will continue to get added style to match its enhanced performance.
Inside, the current C-Class is a little behind newer models in the lineup. Sure, it boasts circular air vents like the others, but these more flush units fail to stand out like they do in the new A-Class or CLA-Class. The C-Class also has the brand's older-style dash-top infotainment screen and analog gauges instead of the newer dual-LCD screen setup. We expect this design to carry on in 2021, but a potential 2022 or 2023 redesign will likely align this cabin with the newest design.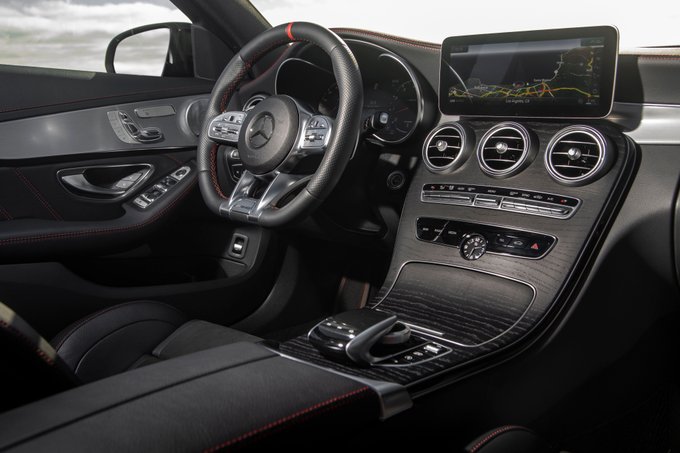 Powering the 2021 C-Class, we expect the same array of engines, starting with the 255-horsepower 2.0-liter turbocharged four-cylinder in the base C300. We also anticipate no changes to its performance line, which would mean the C43 will continue with a 385-hp twin-turbo 3.0-liter V6, and the C63 and C63 S will roll on with their respective 469- and 503-hp twin-turbo V8 engines.
Thanks to its "Good" scores in all crash tests, a "Good" headlight rating with its optional automatic high-beam headlights and a "Superior" rating in front-crash prevention with its standard automatic emergency braking, the current C-Class is an IIHS Top Safety Pick+. Buyers also get standard blind-spot monitors. We expect the safety equipment and ratings to roll unchanged into the 2021 C-Class.
This luxury sedan will compete with the BMW 3-Series, Audi A4, and INFINITI Q60.
Check prices for the 2021 Mercedes C-Class »
Pictured: 2020 Mercedes-Benz C-Class