What's New
The 2021 Mercedes-Benz E-Class has always been one of the most definitive models in the brand's lineup. Unlike the small Mercedes-Benz C-Class or the large, prohibitively-expensive Mercedes-Benz S-Class, the E-Class strikes that deft balance between size, luxury, and price point. It remains the leader in a segment chock-full of excellent choices.
For 2021, Mercedes seeks to entrench its midsize market position with a thoroughly refreshed E-Class. New styling is joined by the latest MBUX infotainment software, a redesigned steering wheel, and enhanced active safety tech.
Under the hood of the E 450, buyers now find a turbocharged straight six-cylinder engine in place of last year's V6. The already-expansive selection of body styles is further widened with a new, off-road oriented E 450 All-Terrain wagon that's set to do battle with the Audi Allroad.
Choosing Your Mercedes-Benz E-Class
The E-Class is available in four trim levels: E 350, E 450, AMG E 53, and AMG E 63 S. Pricing starts at $55,300 including destination for the base model and climbs all the way to $108,550 for the range-topping AMG E 63 S.
The E-Class is available as a sedan, coupe, convertible, or wagon. The wagon is only available in lifted and cladded All Terrain trim, unless you buy it the in AMG E 63 S guise.
Engine Choices
The new year is a mixed bag of old and new engine options. The carryover powerplants are the base 2.0-liter turbocharged four-cylinder and 4.0-liter V8. The AMG E 53's 3.0-liter inline-six , which sports a new 48-volt mild-hybrid system, is now used with the E 450 as well, albeit in a lower state of tune.
| | | | | |
| --- | --- | --- | --- | --- |
| Engine Type | Trim Level | Horsepower | Torque | Fuel Economy (Combined) |
| 2.0L Turbo 4-Cylinder | E 350 | 255 hp | 273 lb-ft | 26 mpg |
| 3.0L Turbo 6-Cylinder | E 450 | 362 hp | 369 lb-ft | 23 mpg |
| 3.0L Turbo 6-Cylinder | AMG E 53 | 429 hp | 384 lb-ft | 24 mpg |
| 4.0L Twin-Turbo V-8 | AMG E 63 S | 603 hp | 627 lb-ft | 19 mpg |
All use a nine-speed automatic transmission, although the AMG E 63 S gets a stronger version to withstand the engine's prodigious power. Paddle shifters allow for manual control, and multiple drive modes help tailor the E-Class to the conditions and your mood.
One thing missing from the lineup: a hybrid. There's been talk of an E 350e plug-in hybrid, but so far we haven't seen any sign of it materializing for 2021. With the industry push towards hybridization and electrification, we expect Mercedes to bring the E 350e to market sooner rather than later.
Passenger and Cargo Capacity
The E-Class sedan seats five passengers, while the coupe and convertibles lose the rear-middle seat for a total occupancy of four. Wagons continue to offer a throwback rear-facing third row that boosts total seating capacity to seven.
Cargo space ranges from less than 10 cubic feet in the convertible to up to 64 cubes in the wagon. Sedans, the most popular E-Class variant, get 13.5 cubic feet of trunk space and split-folding rear seatbacks.
Safety Features
The Mercedes E-Class comes standard with safety features such as automatic emergency braking and blind-spot monitoring. The rest are found in the optional Driver Assistance Package ($1,950), which includes adaptive cruise control, lane keeping assist, and much more.
Connectivity
Mercedes doesn't mess around on the tech front. The standard touchscreen measures 12.3 inches and gets an updated version of the Mercedes MBUX software. Apple CarPlay and Android Auto are standard, as is a voice control control. Navigation is optional.
For 2021, an all-digital instrument cluster that also measures 12.3 inches has been standard. The newly redesigned steering wheel features capacitive sensor technology and hands-off detection that enables longer bouts of handsfree, semi-autonomous driving.
Notable tech options include an all-new optional built-in dashcam, wireless charging, and head-up display.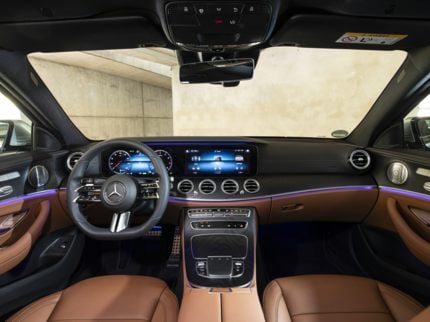 The cheapest E-Class is lavishly appointed with features such as dual-zone climate control, heated and memory-equipped front seats, a power-operated trunk, and LED headlights. Leatherette upholstery, a sunroof, and 18-inch wheels are also standard.
The lone major option package is the $2,300 Premium Package. It includes leather upholstery, a Burmester audio system, and a surround-view camera. Other standalone options include $450 ventilated front seats, an $1,100 head-up display, and $1,320 massaging front seats.
The E 450 trades off the base model's 2.0-liter turbo four-cylinder for a 3.0-liter turbo-six. And while the E 350 is only available as a sedan, the E 450 can also be had as a coupe, convertible, or lifted station wagon. Standard features remain mirror the E 350.
The first of the performance models is the AMG E 53, which uses the same 3.0-liter turbo-six found in the E 450 but in a higher state of tune. The E 53 is limited to the sedan, coupe, and convertible.
Comfort features remain largely the same as what buyers find lower, but Mercedes does throw in a few AMG-specific touches such as unique grille and trim, sportier bumper designs, and a performance-tuned air suspension.
Options unique to the AMG include a $1,750 AMG Exterior Carbon Fiber Package and a $1,250 performance exhaust.
Raw and ludicrous, the AMG E 63 S sedan and wagon are 603-hp not rods dressed like commuter cars. They include much of the same features found in the lesser variants but add Nappa leather, sport seats, 20-inch wheels, and Burmester audio. Wireless charging, automatic parking assist, and AMG-specific infotainment pages are all standard as well.
Compare E-Class Trims Side-By-Side
CarsDirect Tip
The 2021 Mercedes E 350 is very nice, but we think the E 450 is well worth the cost of entry. The extra power makes any sort of passing or acceleration maneuver effortless, and the wider selection of body styles allows for more creativity and indulgence. The All Terrain wagon particularly excites us as a unique alternative to the common crossover.