With its platform-mate, the INFINITI QX30, nearing the end of its run, the GLA-Class' future was a little uncertain. Recently, we got confirmation the GLA-Class will live on as a redesigned 2021 model. Here's what to expect when it arrives.
There is not a lot of information on how the 2021 Mercedes-Benz GLA-Class will look, but Mercedes released a little information and a few camouflaged teaser images. The new-generation GLA-Class will be over 3.9 inches taller and 0.6 inches shorter from nose to tail than the current model. Mercedes will also add a more upright front end, short overhangs, and black body cladding all around to give the GLA-Class something it's long lacked: off-road presence. Outside of these updates, Mercedes' camouflaged teaser images show the rest of the new GLA-Class will continue with swoopy body lines similar to the current model.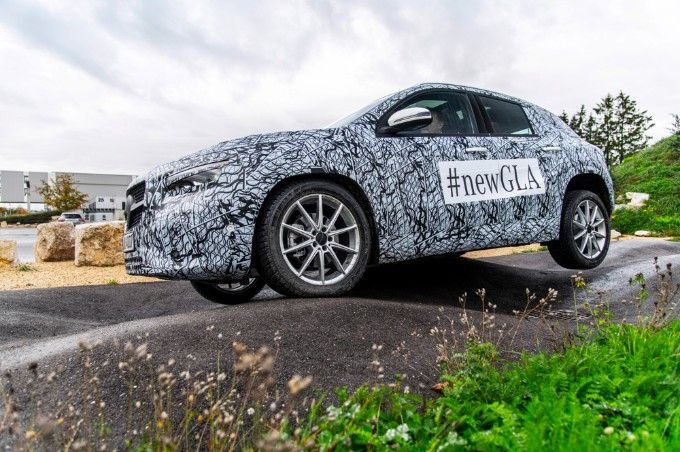 There are no images or details about the interior, but we can look toward some of Mercedes' newest sedans and crossovers to get a good idea of what this luxury crossover will look like. We expect features like the dual high-resolution screens making up the infotainment and instrument cluster, rounded air vents, multicolor ambient lighting, and clean instrument panel to all carry over in one form or another from the new CLA-Class and GLB-Class to maintain brand continuity.
There are no details about the 2021 Mercedes GLA-Class' under-hood bits, but we expect an array of four-cylinder options, including a few AMG models for the performance lovers. We can look to related models, like the redesigned CLA-Class, which comes standard with a 221-horsepower turbocharged 2.0-liter unit and has a 375-hp 2.0-liter in its AMG CLA 45 variant for some clues on potential powertrain options.
Like other automakers, Mercedes-Benz puts a lot of focus on safety, even in its lower-tier vehicles. Though the IIHS has not tested the current GLA-Class, it comes standard with the IIHS-favorite, automatic emergency braking. It also comes standard with driver-drowsiness alert and rain-sensing wipers. Optionally, buyers can add blind-spot monitors, lane-keep assist, following distance monitor, a 360-degree camera, and more. The 2021 GLA-Class will add to this enhanced automatic emergency braking, an emergency lane function, an exit alert system that tells you when it is safe to exit the vehicle, and more.