The Mercedes-Benz GLC-Class arrived in 2016 as a replacement for the GLK-Class. New name or not, the GLC-Class has continued to revolutionize the industry in its first generation with a wild coupe variant, gobs of performance, and a cloud-like ride. In 2020, this compact crossover saw a few tech, trim, and powertrain updates, but it remains virtually the same rig that debuted in 2016. We expect the 2021 GLC-Class to continue this carryover trend.
The 2021 GLC-Class will be no spring chicken, as it'll mark the sixth model year for this design. That said, it still looks good, especially in its coupe variant. With these looks still relevant, we expect no changes, so it'll likely roll in with the same styling, including an assortment of grille options, buttery-smooth body lines, and rounded headlights. Buyers will also continue to have the opportunity to sport up the GLC-Class with AMG variants.
Inside, the current GLC-Class has an older interior design, but it still boasts a blend of sportiness and luxury with its circular air vents, dash-top infotainment screen, clean center stack, and thick-rimmed steering wheel. It does, however, lack the more pronounced air vents, dual-LCD screen setup, and bold dash design of newer models like the CLA-Class and A-Class. We expect this older interior design to remain when the 2021 GLC-Class arrives.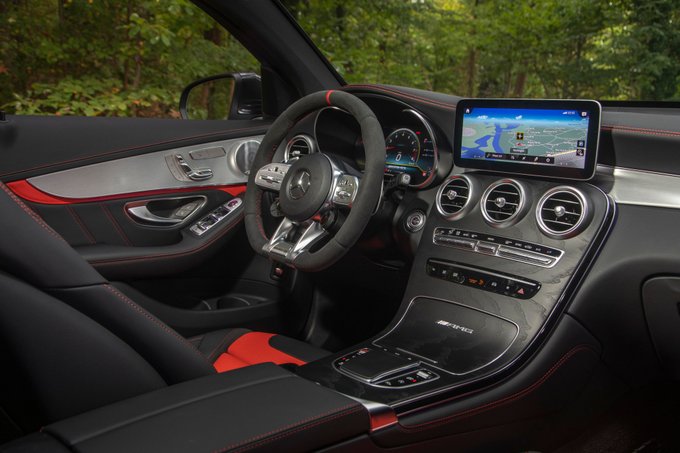 Under its hood, we expect the 2021 GLC-Class to continue with the same array of powertrain options that range from mild to wild. This lineup will start with the GLC300 and its 255-horsepower 2.0-liter turbocharged four-cylinder engine. Buyers seeking more performance can slip in the AMG GLC63 or GLC63 S, which each use different tunes of the same twin-turbo V8 to produce 469 and 503 hp, respectively.
The IIHS has tossed the 2020 GLC-Class into a few walls, giving it "Good" scores in each crash test, but testing is still incomplete. Every GLC-Class comes standard with automatic emergency braking, and buyers can opt for other advanced nannies like active lane control, blind-spot monitors, a surround-view camera system, and adaptive cruise control. We expect the safety features and ratings to remain the same in the 2021 GLC-Class.
This compact luxury crossover will compete with the BMW X3, Audi Q5, and Lincoln Corsair.
Check prices for the 2021 Mercedes GLC-Class »
Pictured: 2020 Mercedes-Benz GLC-Class