Mitsubishi launched the third-generation Outlander in 2014, and it received a few nips and tucks in 2019 to help keep pace with a fast-changing segment. The 2020 model was a visual carryover, but it gained a few updated tech features and a new trim level. With a full redesign announced for the 2022 model year, we expect the 2021 Mitsubishi Outlander to be a carryover model.
As a carryover, we expect no changes to its looks. We expect it to continue with the same design that came with the 2019 refresh, which included a bold nose and grille, a three-ridged hood, and wide taillights placed upon an otherwise simple crossover canvas.
Inside, the current Outlander is stylistically simple with mostly dark colors, a dated dash shape, simple HVAC controls, a glass-black center bezel, and a dash-mounted infotainment screen. We expect this simple design to roll unchanged into the 2021 Outlander.
We also expect the standard features to remain the same in the 2021 Outlander. If this is the case, it'll come standard with basics like a 7-inch touchscreen, Bluetooth connectivity, and cloth seating. To get Android Auto and Apple CarPlay connectivity, you must move into the second-tier SE trim.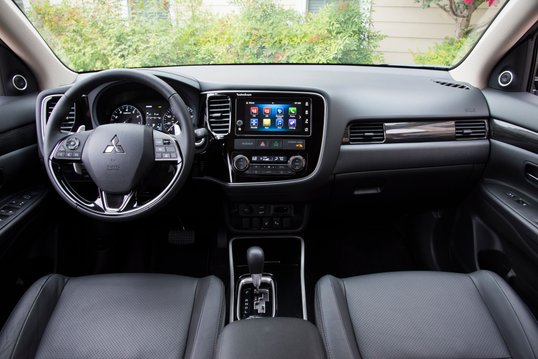 Under its hood, the current Outlander comes standard with a 2.4-liter four-cylinder engine that delivers 166 horsepower and 162 pound-feet of torque. GT models gain a 3.0-liter V6 with 224 hp and 215 lb-ft of torque. All Outlanders come standard with front-wheel drive and a continuously variable transmission, but all-wheel drive is an option. We expect these powertrain features to remain the same in the 2021 Outlander.
An outlier in the lineup is the plug-in hybrid. The current Outlander PHEV pairs a 117-hp 2.0-liter four-cylinder engine with a 60-kW electric motor for a 22-mile EV range, but Mitsubishi promises significant changes to the powertrain in 2021. These updates will include a larger-displacement engine with more horsepower, a more powerful electric motor, and an enhanced EV range.
The 2020 Outlander is an IIHS Top Safety Pick thanks to its "Good" scores in all the crash tests, "Acceptable"-rated LED headlights, and "Superior"-rated optional automatic emergency braking. On top of the automatic emergency braking, the Outlander also has optional lane-departure warning and automatic high-beam headlights. We expect the safety features and ratings to carry on unchanged in the 2021 Outlander.