Let's be blunt. The Nissan 370Z is old. It debuted in 2009 as the replacement for the 350Z, and despite a shorter and wider body, it was more of an evolutionary redesign. With its popularity waning and buyers moving to other models, Nissan's new Z Proto prototype indicates a fully redesigned Nissan Z is on the way.
The Z Proto shows there's a big redesign in store for the next-gen Z. It'll include a retro design that'll feature a sloped hood with a distinct raised center section, teardrop-shaped LED headlights with two half-circles, a rectangular grille, and a swooping roofline similar that flows to a squared-off backside. Highlighting the Z's rear are 300ZX-inspired taillights set within a black section.
Other goodies making up the Z Proto's body include carbon-fiber side skirts, front lower lip and rear valance, 19-inch alloy wheels, and dual exhaust. With it being pretty much production-ready, we expect the Z Proto's exterior design to transfer almost directly to the redesigned sports car.
Inside the Z Proto offers more classic-meets-modern styling with its deep-dish steering wheel, dash-top gauges, 12.3-inch digital gauge cluster, yellow accents, large infotainment screen, and more. Like the exterior, this cabin looks production-ready, so we expect it to carry almost directly into the new Z.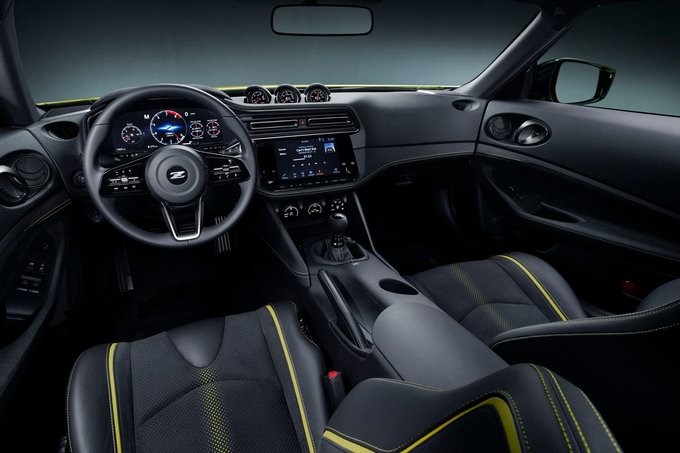 The current 370Z has pushed the aging Nissan 3.7-liter V6 hard over the years, and it's time to retire the old girl. The Z Proto gives us a glimpse at what's in store for the 2021 Nissan 370Z with its twin-turbocharged V6 and six-speed manual transmission. An automatic is in development too. With the 300ZX's old Toyota Supra nemesis back in the fold, this boosted V6 will help the new 370Z compete.
The Z Proto prototype offers no insight into what safety features we can expect from the 2021 Nissan 370Z. Most sports cars lack advanced safety tech, but with Nissan now offering its Safety Shield 360 standard on most new models, including the entry-level Versa, we expect the 2021 Nissan 370Z to include it too. Nissan Safety Shield 360 includes automatic emergency braking with pedestrian detection, rear automatic braking, lane-departure warning, high-beam assist, and more.