In 2016, Nissan introduced the second-generation Titan. With it came the first-ever medium-duty Titan XD. Slightly larger, stronger, and better tuned for heavy towing, the Titan XD offered a middle ground between light-duty and heavy-duty pickups. In 2020, the Titan XD received a light refresh that brought in a new front end, a more powerful base engine, and more. We expect no changes when the 2021 Nissan Titan XD arrives.
The 2020 Titan XD refresh brought in new-look headlights and daytime running lights, revised grilles for each trim level, new LED fog lights, all-LED bed lighting, a new front bumper, updated badges, and new wheel designs. This refresh gave Nissan at least a few more years before it needs to update the Titan XD, so we expect the 2021 model to carry on with the same looks.
The Titan XD's interior remained mostly unchanged through the 2020 refresh, but it did gain an optional dual-panel panoramic moonroof and a flexible smartphone holder and charging system. Otherwise, everything else remained unchanged, including its upright dash, angular HVAC vents, large center console, and available upscale materials in the higher trims. We expect this to remain the same when the 2021 Titan XD hits showrooms.
The 2020 Titan XD's standard features include cloth upholstery, 17-inch wheels, power windows and locks, bench seats, an 8-inch display with Apple CarPlay and Android Auto compatibility, two USB ports, and more. In higher trims, the Titan XD even more desirable features, including movable bed cleats, upgraded cloth seating, a 9-inch touchscreen, four USB ports, household-style plugs, leather upholstery, and more.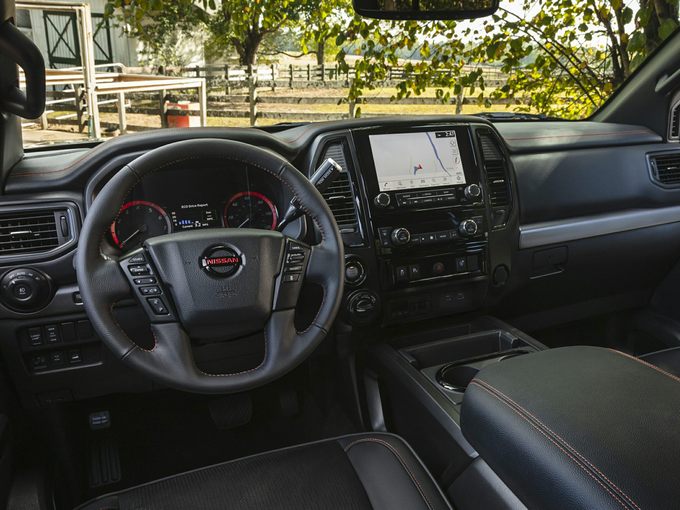 We expect the 2021 Nissan Titan XD to continue with the same engine. If this is the case, the 2021 Titan XD will come standard with a 5.6-liter V8 that'll crank out 400 horsepower and 413 pound-feet of torque. This power will head through a nine-speed automatic transmission and out to the rear wheels. Four-wheel drive will remain an option. This will translate to an 11,000-pound towing capacity, which is 1,630 pounds more than the standard Titan.
The Titan XD hasn't been through IIHS testing, nor do we expect it to. That said, it boasts standard automatic emergency braking, blind-spot monitors, rear automatic emergency braking, and lane-departure warnings. We expect these standard safety bits to remain the same in the 2021 Titan XD.