Porsche entered the luxury compact crossover market with the 2015 introduction of the Macan. In 2019, this compact crossover received a light refresh and more power, but it's since remained mostly unchanged. We expect the 2021 Porsche Macan to carry over unchanged.
As a carryover model, we expect this compact crossover to remain virtually identical to the current model. The current Macan looks almost like a squashed Cayenne with its sweptback headlights, diving hood, large grille and air inlets, and short overhangs. Around back, its forward-leaning rear hatch and one-piece full-width taillight bar give the current Macan a sporty take that we also expect to remain unchanged in the 2021 Macan.
Inside, the current Macan boasts all the signature Porsche cues, including its sporty three-spoke steering wheel, button-lined shifter bezel, analog clock, unique color combinations, bold gauges, and more. Standard features in this cabin include a 10.9-inch touchscreen, navigation, a 10-speaker audio system, power seats, and leatherette upholstery. Higher trims include more premium materials and more. We expect this design and feature to remain the same in the 2021 Macan.
Buyers seeking something new can wait until the expected 2022 release of the redesigned Macan.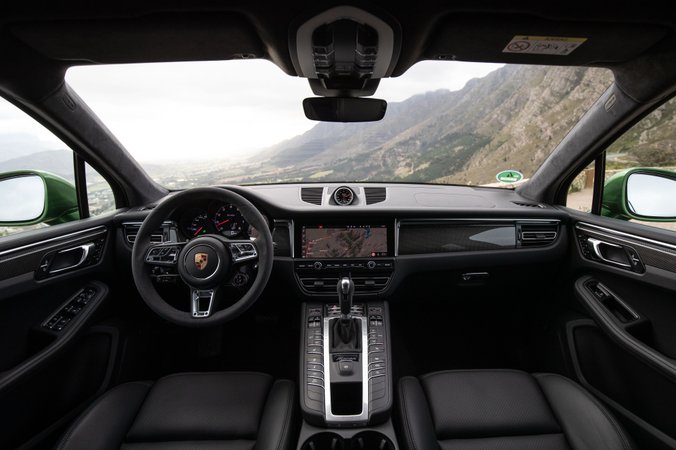 Under its hood, the current Macan has three engine options. The base Macan comes with a 2.0-liter turbocharged four-cylinder engine that produces 248 horsepower. The Macan S boasts a 348-hp turbocharged V6. Next, the GTS trim gains a twin-turbo 2.9-liter with 375 hp. Topping the range is the Turbo trim with a 434-hp version of the 2.9-liter V6. All 2020 Macan models come standard with a seven-speed dual-clutch transmission and all-wheel drive. We expect these powertrain options to remain the same in the 2021 Macan.
The current Macan hasn't been through crash testing, nor do we expect it to. It also lacks standard automatic emergency braking but comes standard with lane-departure warning. AEB is available, but it requires adding adaptive cruise control too. We expect no changes to the standard and optional safety features in the 2021 Macan.